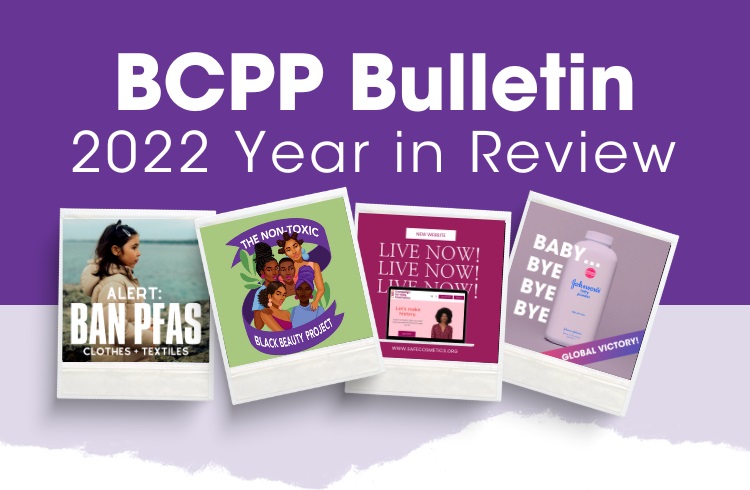 BCPP concludes 2022 with – not just a splash – but huge waves in the state, federal, market-based, and educational area. Thank YOU for your generous support which powered our breast cancer prevention work, and please enjoy reading about the many accomplishments you helped make possible this year.
Give your year-end gift today for breast cancer prevention!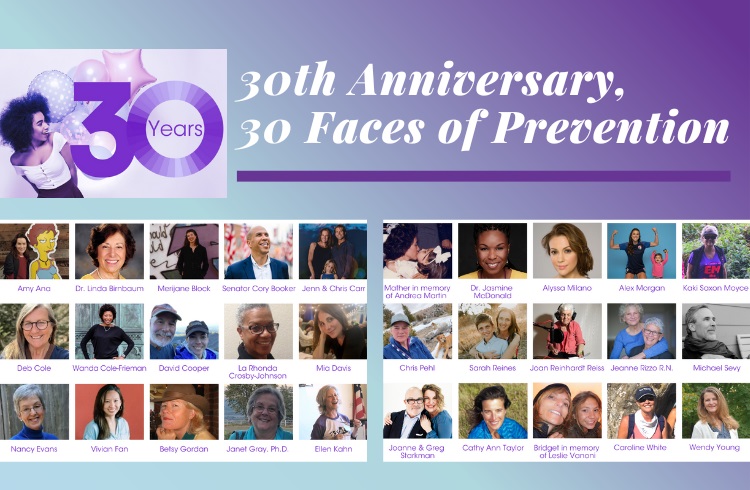 30th Anniversary, 30 Faces of Prevention
Happy 30th Birthday, BCPP! All year long, we reflected on our many victories that have shifted laws and the marketplace to better protect us and the lives of people we love. In March, we celebrated 30 Faces of Prevention: 30 individuals who've demonstrated their commitment to breast cancer prevention over the last 30 years. Throughout the year, we continued to celebrate these legacy-bearers, honor star fundraisers and Board members, highlight our science community, and showcase new movers and shakers in the breast cancer prevention movement. To date, we've raised over $46,000 in honor of BCPP's 30th anniversary. Thank YOU for being a Face of Prevention!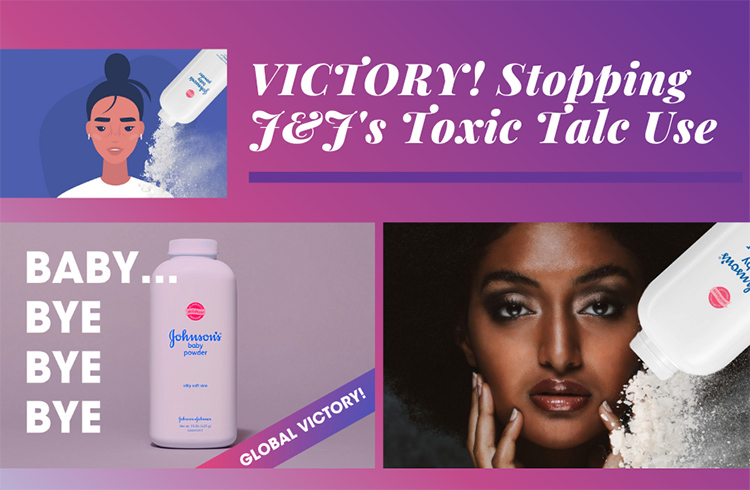 VICTORY! Stopping J&J's Global Sale of Toxic Talc-based Baby Powder
On August 11, 2022, Johnson & Johnson (J&J) finally committed to stop ALL global sales of its talc-based baby powder by 2023! This is such important news given the widespread concern that use of talcum powder in the perineal area is linked to ovarian cancer. It comes following the shocking revelation that J&J was aware since the late 1950s that the talc in Johnson's Baby Powder was sometimes contaminated with asbestos, a chemical linked to mesothelioma and other life-threatening cancers. We are proud to be a core organizing committee member of this multi-year campaign, led by our partner Black Women for Wellness. This victory is a long time coming; it is the result of a global movement of health and justice organizations, investigative journalists and concerned people, like you, who took action to hold J&J accountable for the sale of their toxic talc and their targeted marketing of the product to Black and Brown communities. See the full J&J campaign timeline and path to victory.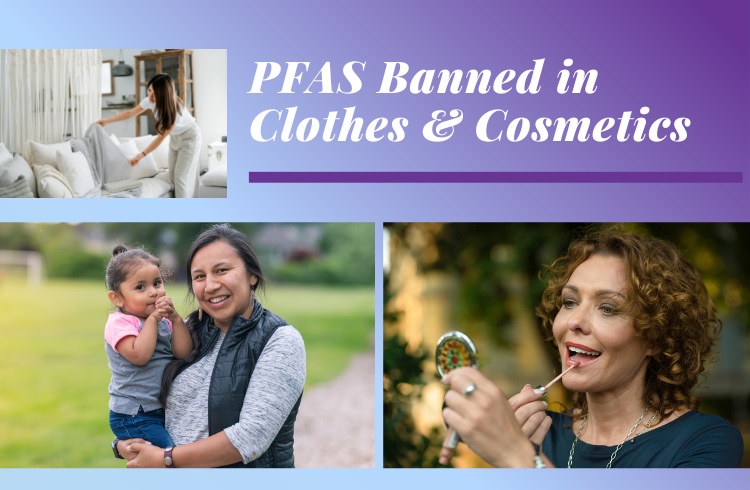 VICTORY! 2 New CA PFAS Bills Ban Toxic PFAS from Clothing & Cosmetics
In September, California Governor Gavin Newsom signed into law two BCPP-cosponsored bills that will remove toxic PFAS chemicals from textiles and cosmetics. The Safer Clothing and Textiles Act (AB 1817) bans the sale in CA of any textile articles containing PFAS, and the No PFAS in Cosmetics Act (AB 2771) bans PFAS chemicals from beauty and personal care products sold in California. These two bills will greatly reduce PFAS pollution in our bodies, drinking water, waterways, and environment. They will make a big difference for all our health, as these laws will ultimately get PFAS out of the personal care products and clothes that end up everywhere. Plus, given the size of the CA market, these bills will impact the entire country and provide models for other states to pass similar health-protective bills.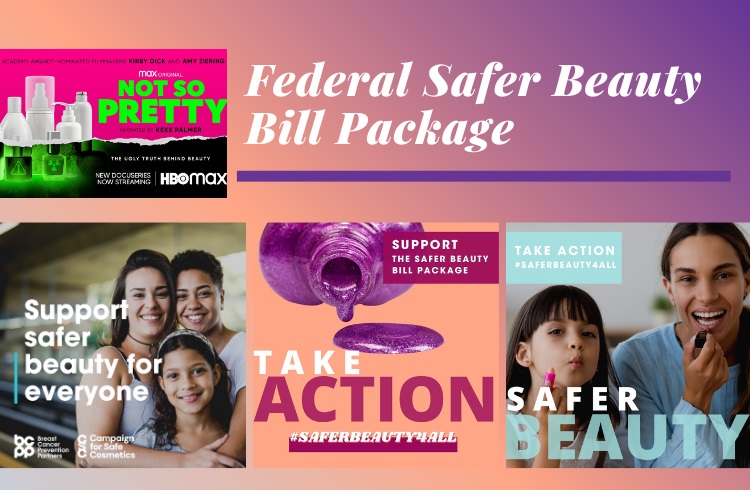 #SaferBeauty4All + "Not So Pretty" Docuseries
We continued building support for our historic federal Safer Beauty Bill Package, a package of 4 free-standing bills addressing critical gaps in cosmetic safety: protections for women of color and salon workers; fragrance & flavor ingredient disclosure; supply chain transparency; and a ban on the worst chemicals in beauty & personal care products. BCPP and our partner NGOs, businesses, and influencers collectively reached over 700,000 people during our week of action! To date, we have 154 endorsing organizations, 21 Representatives who signed on as co-sponsors, conducted 30+ lobby visits, made 1,352 phone calls, and sent 3,708 letters to Congress. In addition, HBO Max released a provocative 4-part docuseries, Not So Pretty, that featured BCPP's Sr. Director of Program and Policy, Janet Nudelman, and included a call to action on behalf of the Safer Beauty Bill Package. The series will raise awareness and generate even more advocacy support for the cosmetics reform bill package.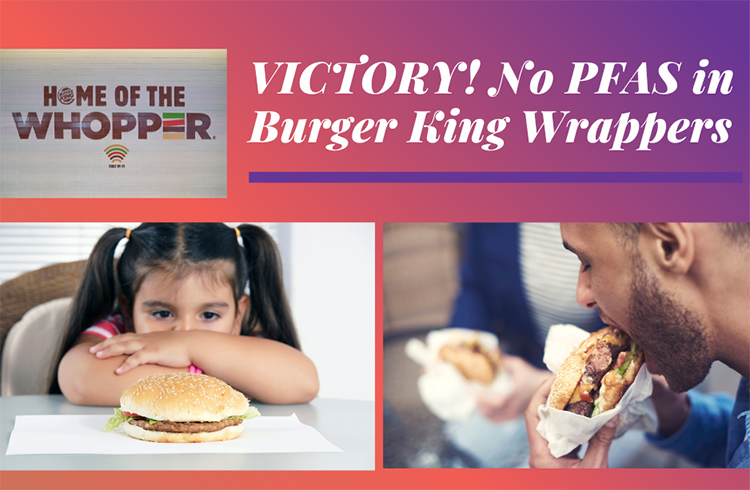 VICTORY! No More PFAS in Burger King Wrappers
Fast food giants like Burger King use toxic PFAS 'forever' chemicals in food wrappers to make them grease-resistant—and when people eat food contaminated with PFAS, they absorb these harmful chemicals. This past quarter, we celebrated the victory of the Burger King campaign in conjunction with our partners at Mind the Store. Thanks to your support and letters to Burger King, Burger King will phase out PFAS from its packaging worldwide by the end of 2025.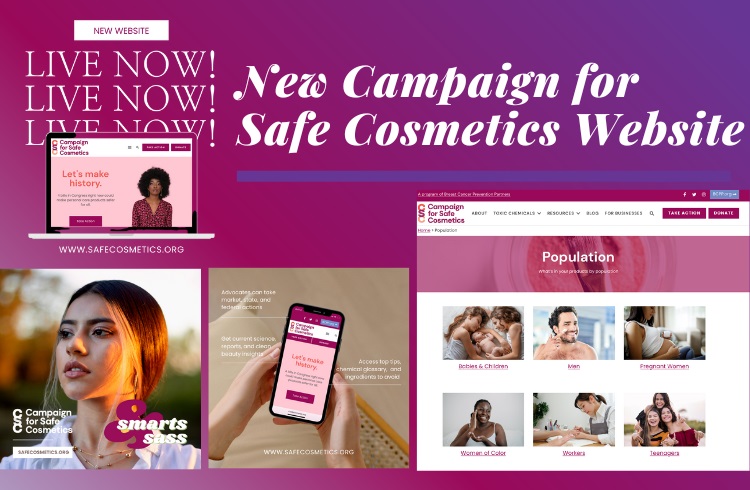 NEW: Campaign for Safe Cosmetics Website
We unveiled a brand-new look and complete website refresh for our program, the Campaign for Safe Cosmetics (CSC). Since 2004, CSC has educated and engaged millions of consumers throughout the nation to move the $100 billion cosmetics industry toward a new standard: ingredient transparency and safer products for everyone. In addition to creating a modern, streamlined look for CSC's brand, our highly trafficked site features a totally new interface and dozens of new resources. This includes our newly updated and freshly redesigned Red List Chemicals of Concern technical guides.
Release of CSC's First-Ever Non-Toxic Black Beauty Project
On October 18th, BCPP unveiled our Non-toxic Black Beauty Project, housed on our Campaign for Safe Cosmetics website. CSC's Non-Toxic Black Beauty Project spotlights the nation's top Black-owned clean beauty companies and offers the first-ever database of CSC-verified safer Black beauty products. The plethora of resources that accompanied this release include: a new Red List of Chemicals of Concern in cosmetics, including chemicals contributing to 13 diseases and chronic health conditions of particular concern to Black women; an annotated bibliography summarizing the science linking toxic chemicals in cosmetics to negative impacts on Black women's health; top tip cards; shareable graphics; factsheets, and more! A total of 700+ products from 80 incredible Black beauty businesses met our rigorous product safety assessment and will be spotlighted as top Black-owned beauty brands.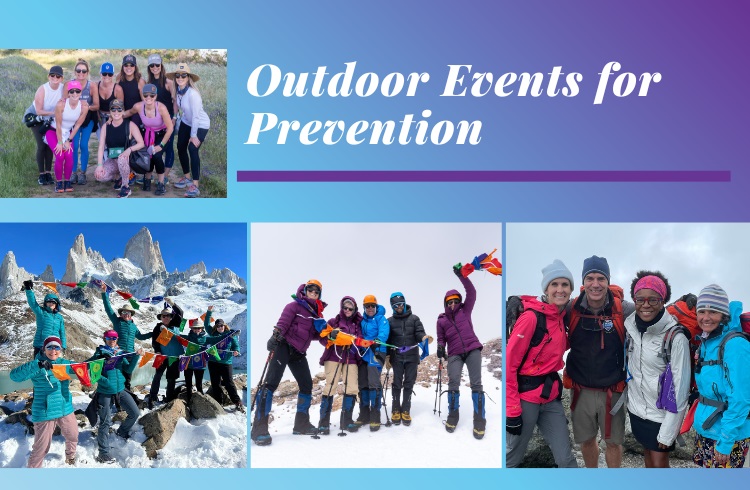 Outdoor Events Recap: CAO, Ridge Hike, Peak Hike, NEPP, Sacred Treks
This year, our climbers, trekkers, and hikers went above and beyond in their efforts to raise funds for breast cancer prevention. The 23-member 2022 Climb Against the Odds team faced up to 100 mph winds but broke through their fundraising goal and raised a staggering total of $417,772! After a 2-year hiatus, Ridge Hike organizer and breast cancer survivor Caroline White hosted our first springtime Ridge Hike for Prevention, signing up over 260 locals who raised $195,000+. Breast cancer survivor and New England Peaks for Prevention founder Deb Cole led a full team up Mt. Washington and fundraised $100,000+ for prevention. On the other side of the equator, longtime BCPP supporter and Sacred Treks organizer Cathy Ann Taylor guided an adventurous group of 10 through the hills of Patagonia; the small but mighty team raised over $90,000! And finally, BCPP hosted our signature Peak Hike for Prevention, where 171 in-person and 39 virtual hikers fundraised over $168,000 for prevention. Big thanks and many cheers to these trail heroes and partners in prevention! Check out all our upcoming 2023 events and sign up today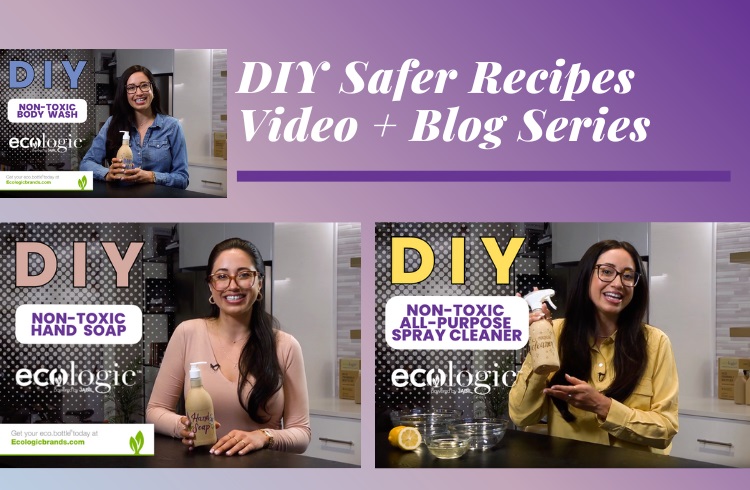 BCPP X Ecologic Non-Toxic DIY Videos
We set up shop in the test kitchen of our incredible partners at Ecologic powered by Jabil to bring our community easy home recipes for safer beauty and cleaning products. We filmed and disseminated three short DIY video explainers covering how to make your own home products, including: DIY Non-Toxic Hand Soap, DIY Non-Toxic Body Wash, and DIY Non-Toxic All-Purpose Spray Cleaner. Starring BCPP's very own Director of Marketing and Communications, Erika Wilhelm, each video and accompanied blog post also highlights commonly found toxic chemicals and other scientific insights. These videos have been viewed over 200,000 times and growing!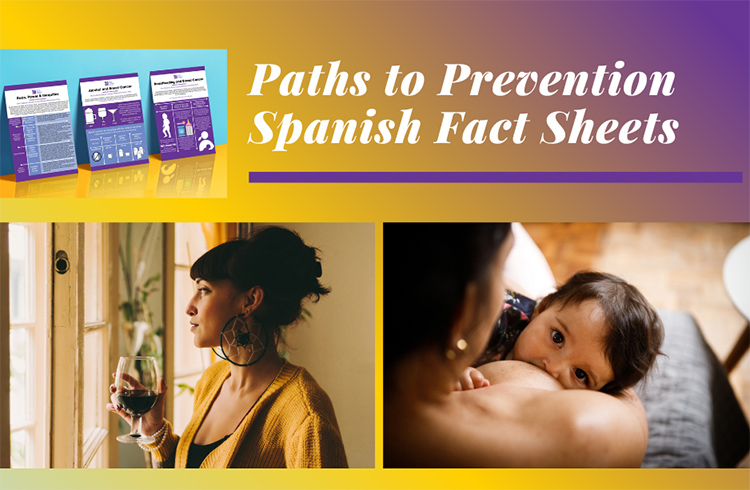 Paths to Prevention-Spanish Translation
This year, we translated our first set of fact sheets and social graphics into Spanish to draw out key Paths to Prevention takeaways in a consumer-friendly way for Latinx communities. The Spanish alcohol fact sheet and breastfeeding fact sheet are now available on our website for download.
BCPP Website: Environmental Justice
Have you seen our new Environmental Justice hub? The new website feature highlights how systemic racism furthers the disproportionate exposures to chemicals linked to breast cancer and other diseases for communities of color, low-income communities, and tribal and indigenous communities across the U.S. The new page also uplifts BCPP's justice and equity work.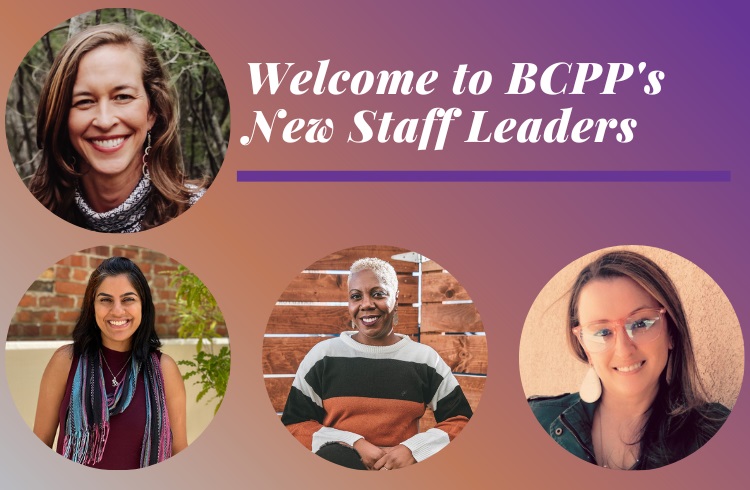 Welcome to BCPP: New Team Members
2022 has been a significant year of capacity growth for our small but mighty team at BCPP. We are thrilled to celebrate the introduction of BCPP's four newest staff hires! Wendy Cook joined us as BCPP's new Sr. Engagement & Partnerships Manager. Nyisha Green-Washington is our newest Sr. Organizing Manager and will be focused on helping make the next stage of Paths to Prevention a reality. Dr. Rainbow Rubin has stepped into the leadership role as BCPP's Director of Science and Pujeeta Chowdhary is our new Science and Education Manager! Find out more about these incredible new BCPP staff members in the months to come.
And Lastly!
Thank you for taking action on food safety and sending thousands of letters to Congress, demanding the removal of harmful phthalates from food and closing of the GRAS loophole that allows toxic chemicals to leach into our food.
Become an Ambassador and learn how to become amazing event organizers like Caroline White, Deb Cole, Cathy Ann Taylor, and Amy Ana (congrats on 2 years hosting Fishing for the Cause!). We want to make our Peak Hike bigger and better, so let us know if you are interested in hosting your own local branch!
Giving Tuesday Results: Thanks to the outpouring of support from our generous community, we raised $86,500 as part of our #GivingTuesday triple matching gift challenge, sponsored by Innersense Organic Beauty.
Join our first public webinars about the Non-toxic Black Beauty Project: Register here
Your support powers and makes our prevention work possible—thank you!
Your generous giving makes all this work possible. Thank you so much for your support to move prevention forward. We wish you happy holidays and a joyful new year!