A natural, safe and effective alternative to the popular all-purpose cleaner
Reposted from our partners at Ecologic 
There are few household cleaning products that are more versatile and reliable than the powerhouse known as the all-purpose cleaner. Chances are, it's the first product you reach for to clean up the messes around your home. A sticky splash of your toddler's orange juice sippy cup. A grease splatter from last night's dinner experiment. A drop of toothpaste stuck to the bathroom counter. Kids. Pets. Life in general can be messy. But that's no problem for the all-purpose cleaner!
Begin your sustainability journey with the Ecologic 16oz reusable sprayer and pump eco.bottle 4pk kit!
While the all-purpose cleaner is a trusted staple in many home cleaning kits, you might be surprised to learn that many ordinary household cleaning products, like all-purpose counter cleaners, contain chemicals that have been linked to health concerns with short and long-term impacts. Some common ingredients include:
Formaldehyde is a known carcinogen which can be added to act as a preservative in many personal care and cleaning products.
Phthalates are a group of chemicals that can be used as solvents and stabilizers in some cleaning product formulations.
Ethylene oxide is a fumigant most commonly used to create other chemicals and has been linked to health concerns including increased risk of cancer. Check for ingredients that end in "eth".
There are plenty of ways to keep your home clean without using harsh chemicals. In fact, one of the best and safest ways to clean your home is by making your own all-purpose counter cleaner with just a few simple ingredients – some of which you probably already own.
Recipe
Castile Soap Based Recipe
Ingredients:
– 2 cups distilled water
– 2 tbsp castile soap [removes dirt and grime]
Vinegar Based Recipe
Ingredients:
– 1 cup distilled water
– 1 cup vinegar [works as a solvent]
Optional: Juice from ½ lemon (store the cleaner in the fridge if used) [adds fresh, clean scent]
Note: DO NOT use on marble, granite or stone; do not clean raw egg.
Directions:
1. Measure ingredients and pour into a spray bottle (use funnel if needed). Shake gently to combine.
2. To use, first gently shake the spray bottle. Spray cleaner onto desired surface, wipe off with a damp cloth. Need a dispenser for your new homemade all-purpose cleaner?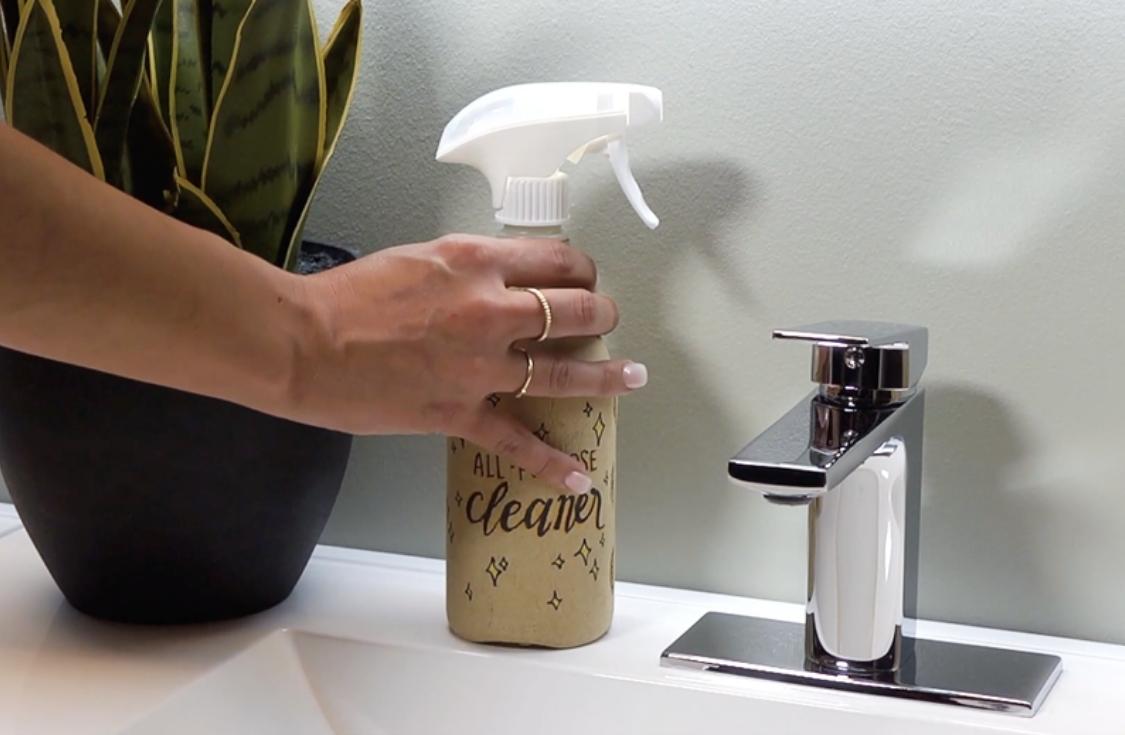 These simple, non-toxic ingredients do the heavy lifting without the negative health side effects. Vinegar's acidic nature works as a solvent to tackle tough buildups of dirt and grease.
One question we often get is, what about disinfecting?
There are some areas in your home that should be regularly disinfected, especially if and when you or your loved ones are vulnerable. Products with active ingredients like citric acid, hydrogen peroxide, 1-lactic acid, and ethanol or alcohol are stronger, yet still safe alternatives for castile soap. If you only have access to bleach-based disinfectants, ensure you are using gloves, eye protection and that you ventilate the area after cleaning.
Not quite ready to take the DIY approach? That's okay! There are lots of safe options on the store shelves. You just need to know what to look out for on product labels. Look for companies that disclose all the ingredients on the packaging. Is "fragrance" listed as an ingredient? Skip it. There are thousands of chemicals that can be used to formulate scents for cleaning products. Even "unscented" products may contain fragrance as a way to mask the product's natural odor. Many of these chemicals have been linked to breast cancer, hormone disruptions and other health problems. Remember, "natural" and "organic" claims don't always mean a product is safe.
BCPP is dedicated to eliminating our exposure to toxic chemicals and other environmental exposures linked to breast cancer. For more tips and information, visit www.bcpp.org/tips or follow along on Facebook or Instagram
Pro Tip: Clean often and regularly!
These recipes work best if you keep up with a frequent cleaning routine. Built up dirt and grime can be difficult to remove – even with harsh chemicals. Spare yourself the time and elbow grease by cleaning regularly and often with these safe and natural alternatives.