Dr. Sharima Rasanayagam, Ph.D., joined BCPP as our founding Director of Science. For over a decade, she spearheaded BCPP's science efforts, ensuring that everything we do and say is backed by credible, peer-reviewed science. Science is the backbone of all that we breathe and do at BCPP, and Sharima elevated the truth and exposed environmental risk factors linked to breast cancer like no scientist ever did for us before.
And now, after more than 10 wonderful years at BCPP, it is with a heavy heart that we must say goodbye to her.
In Sharima's words, "I have learned and grown so much over the last decade working with the phenomenal team at BCPP, translating the science of breast cancer prevention for our supporters, regulators and legislators. I look forward to continuing to work with them all to reduce the burden of preventable breast cancer in California and beyond."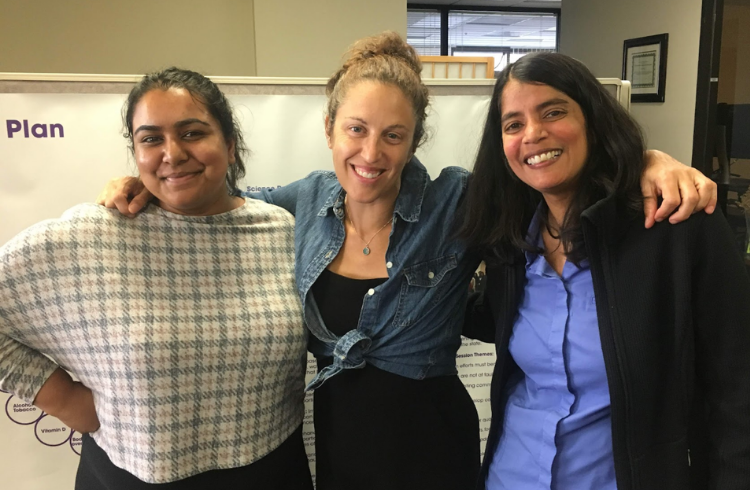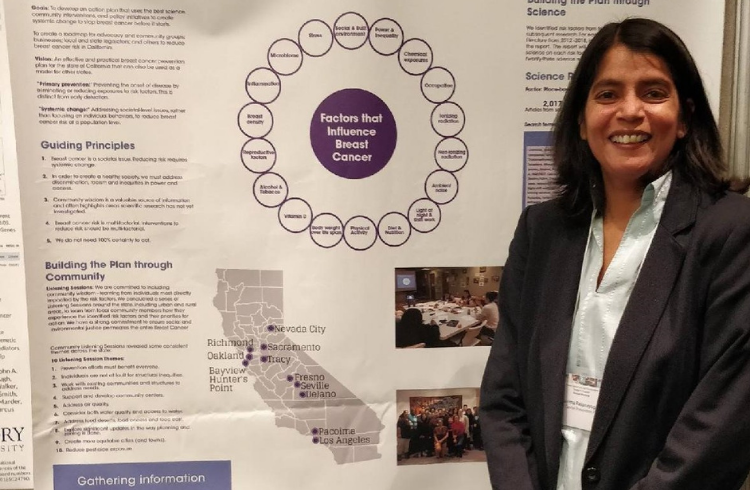 We are thrilled for her new chapter, joining the California Breast Cancer Research Program at UCOP as the Program Officer on Environmental Health and Policy Science. While this new position is not with BCPP, Sharima will continue to work with all of us to implement our shared vision for a future without preventable breast cancer.
"Sharima was the first in-house Director of Science to work at BCPP. Her ability to translate scientific research into policy initiatives was critical to making the organization a leader in environmental breast cancer prevention." – Sarah Janssen, M.D., Ph.D., M.P.H., and Laura Fenster, Ph.D., M.P.H., BCPP Science Advisory Panel Co-Chairs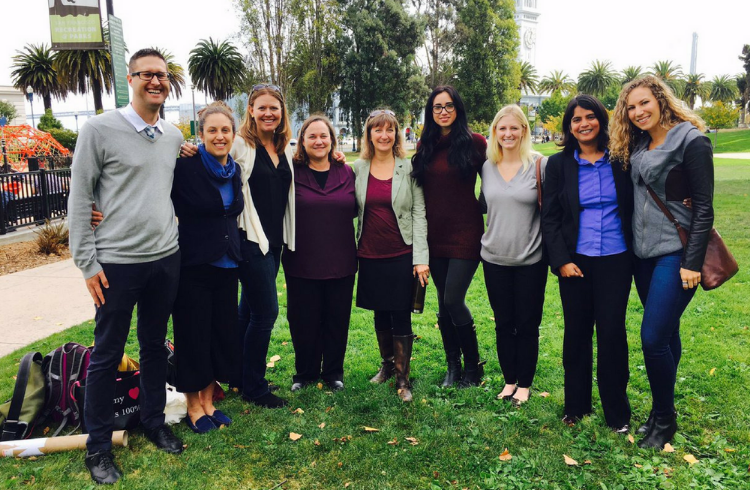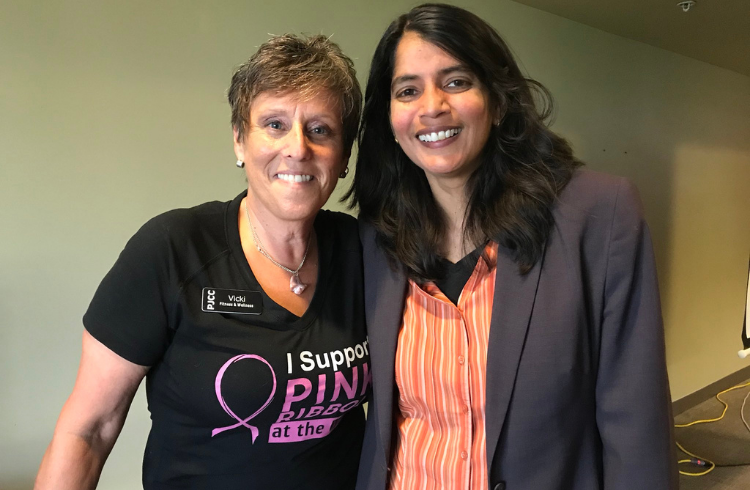 With Sharima's departure, we will absolutely continue to carry our science work into the next era of prevention. Our plans to hire a new Director of Science are advancing. And in the meantime, we are in good hands and pleased to announce Dr. Janet Gray, Ph.D. as our interim Science Director. Dr. Gray has supported BCPP's science for more than 15 years. She is an original member of BCPP's exemplary Science Advisory Panel and the lead author of our cornerstone State of the Evidence  publication. Dr. Gray brings a wealth of expertise on the intersection of environmental risks and breast cancer.
We are tremendously grateful that Sharima's talent in translating scientific research to inform our policy initiatives and educate the public has established BCPP as the trusted, go-to environmental health and breast cancer prevention organization.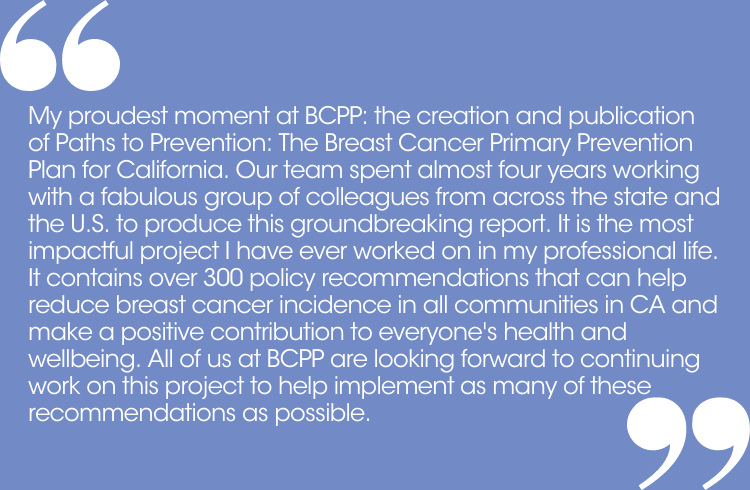 In addition to the publication of the historic Paths to Prevention, we celebrate other achievements during Sharima's tenure with BCPP including:
Publishing the seventh edition of State of the Evidence: An Update on the Connection Between Breast Cancer and the Environment in the journal Environmental Health.
Publishing two peer-reviewed papers on work and female breast cancer in the journal New Solutions.
Releasing the landmark report Right to Know: Exposing toxic fragrance chemicals in beauty, personal care and cleaning products.
Releasing the influential report: Pretty Scary 2 Unmasking Toxic Chemicals in Kids Makeup.
Releasing the Buyer Beware Report, which looked at BPA and regrettable substitutions in canned food lining.
Publishing the Report: Anti- Aging Secrets: Chemicals linked to breast cancer in skin care.
Being cited by the American Public Health Association for Working Women and Breast Cancer: The State of the Evidence as influential in studying occupational exposure related to breast cancer.
Receiving recognition from UCSF for BCPP's Campaign for Safe Cosmetics as a factor in moving cosmetic companies away from phthalates and decreasing people's exposure to certain phthalates.
Passing several laws securing stronger and broader health protections:

The California Safer Food Packaging and Cookware Act of 2021 (AB 1200)
The Toxic-Free Cosmetics Act (AB 2762)
The Cosmetic Fragrance and Flavor Ingredient Right to Know Act of 2020 (SB 312)
Firefighting equipment and foam: PFAS chemicals (SB 1044)
The California Cleaning Product Right to Know Act (SB 258)
The California Salon Product Ingredient Disclosure Act (AB 2775)

Revamping BCPP's website to include the Glossary of Exposures – a comprehensive web resource of environmental exposures linked to breast cancer.
Helping to successfully implement the California Safer Consumer Products Program.
Leading winning campaign to secure an FDA ban on BPA in baby bottles.
Being featured in numerous high-profile media articles.
Partnering with researchers and academic institutions across the state (UC Berkeley, UCLA, UC Davis, UCSF etc.) to ground their research on workplace exposures, air toxics, and water systems in breast cancer prevention and to help present their conclusions to communities, regulators, and legislators.
Elevating the science and the message of prevention to thousands of people (legislators, scientists, NGOs, and the general public) through countless in-person and virtual presentations and educational videos.
Serving on several scientific groups and advisory panels, including the Health Science node of the Cancer Free Economy Network; the Science Advisory Panel of MADE SAFE; and the Science Advisory Committee of the California Healthy Nail Salon Collaborative.
The search for a cure for breast cancer must continue, but the physical and mental impacts of diagnosis and treatment cannot be underestimated. For too long, many have not given breast cancer prevention the priority needed to stop this disease before it starts. Sharima gave this priority to prevention, and we at BCPP will carry that torch forward.