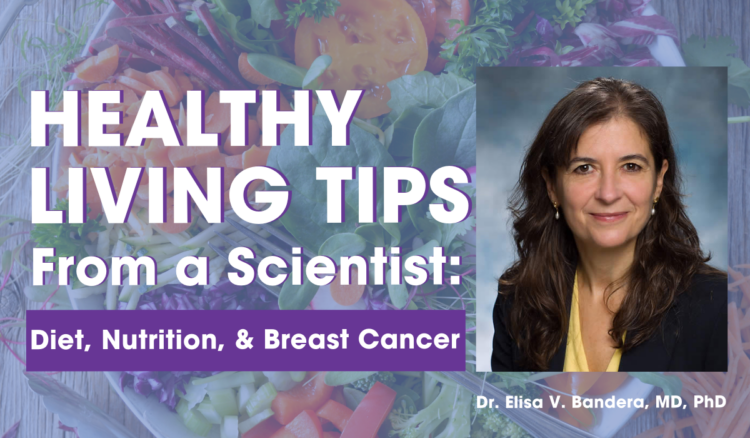 Interview with Dr. Elisa V. Bandera, MD, PhD, Professor and Chief, Cancer Epidemiology and Health Outcomes; Co-Leader, Cancer Prevention and Control, and Unilever Endowed Chair for the Study of Diet and Nutrition in the Prevention of Chronic Disease, Rutgers Cancer Institute of New Jersey and Professor of Medicine, Robert Wood Johnson Medical School. 
We asked BCPP Science Advisory Panel Member Dr. Elisa Bandera, MD, PhD, about her tips for healthy living. She shared with us the most important lifestyle steps that we can all take to improve our health through our diet, nutrition, and physical activity to reduce our breast cancer risk and the risk of other diseases. Whether it's what we eat, or move our bodies, these are simple steps that we can take to maintain a healthy lifestyle that ultimately can have a huge, long-term impact on our wellbeing over the course of our lives. After her top tips, Dr. Bandera also shares with us about her journey to become a scientist and how she landed in the critical field of breast cancer prevention, including her key scientific research findings. Her words below.
Nutrition guidelines for cancer prevention and control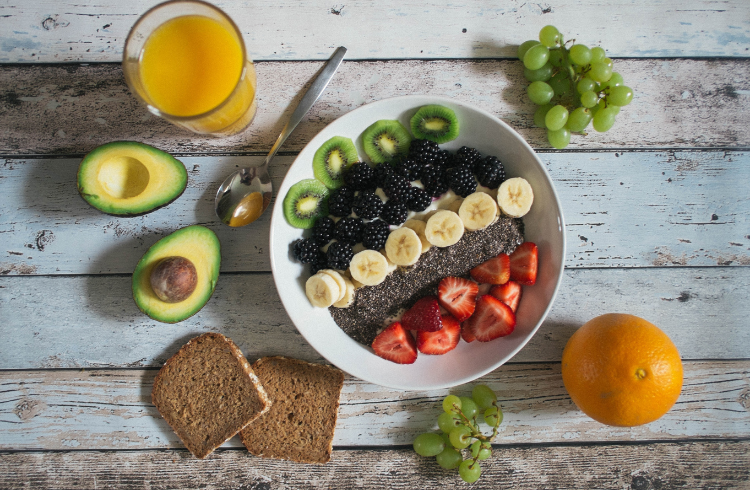 One of the most gratifying parts of my academic career has been my involvement in the development of nutrition and physical activity guidelines for cancer prevention and control at a national and global scale.
There is an enormous body of literature accumulated over the years with some times inconsistent findings linking specific nutritional factors and cancer, as well as a lot of misinformation propagated through social media. For this reason, it is extremely important to evaluate the best scientific evidence using rigorous methodology to summarize and translate this evidence into public health guidelines. I have been fortunate to participate in this process with the American Cancer Society, and the World Cancer Research Fund International/American Institute for Cancer Research. Recommended sources of information are below (Resources).
Overall, the current guidelines emphasize a healthy lifestyle pattern, rather than individual factors, for cancer prevention. 
This healthy lifestyle pattern includes:
Maintaining a healthy weight
Incorporating exercise in your daily routine: Adults should do at least 150 minutes to 300 minutes a week of moderate-intensity, or 75 minutes to 150 minutes a week of vigorous-intensity aerobic physical activity, or an equivalent combination of moderate- and vigorous-intensity aerobic activity. Prolonged sedentary time is discouraged.
Eating a healthy dietary pattern that emphasizes whole grains, vegetables, fruit, and beans, minimizes red and processed meat, fast foods, and other processed foods high in fat, starches or sugars, and avoids sugary drinks.
Avoiding or limiting alcohol consumption
Not smoking
My top diet and nutrition tips for preventing breast cancer or a recurrence: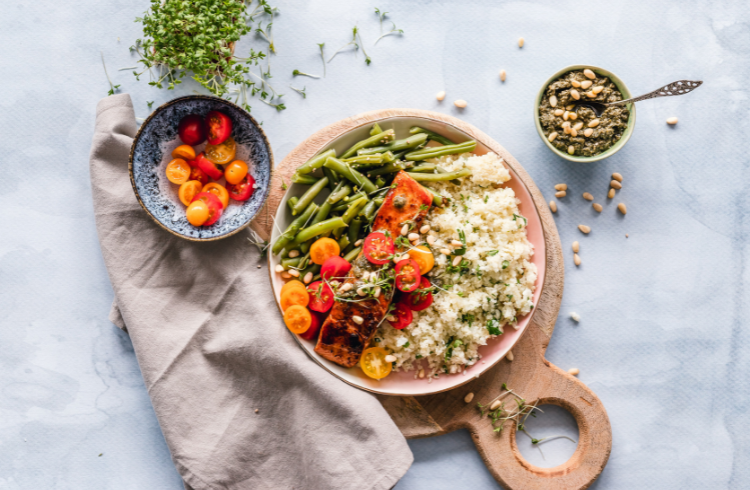 Avoid weight gain during adulthood and after a breast cancer diagnosis by making healthy dietary choices and having an active lifestyle.
Don't obsess about individual foods that you hear you must have to prevent breast cancer (plenty of disinformation in social media). Rather, think of your overall diet being healthy, for example, by choosing nutrient rich foods (e.g., vegetables) rather than energy dense foods (e.g., donuts).
Choose water or unsweetened tea, rather than alcoholic beverages or sodas.
Watch your portion size too.
Try to do some exercise every day, even a 15-minute walk can do wonders for our physical and mental wellbeing. Our hectic lifestyle makes is hard to carve time for this, but keep in mind that more is better, but some is better than nothing.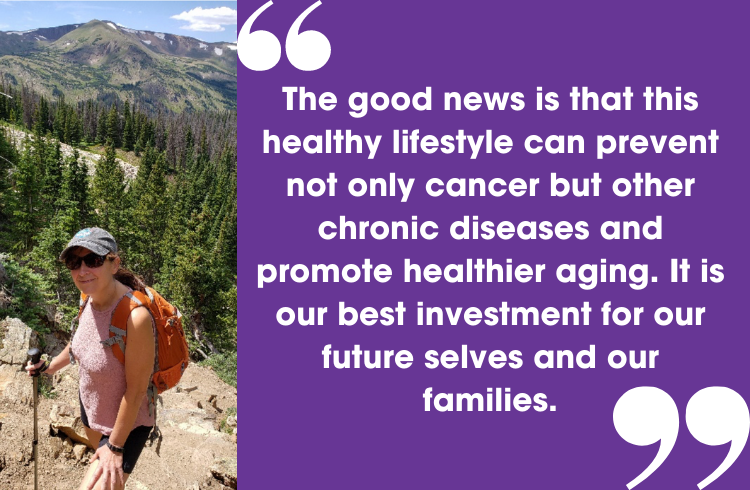 My Story
Feels like a long journey

I grew up in a beautiful small town in Southern Spain called Yunquera, where life was and remains simple, but with limited resources. Unlike many of the other kids in town, I was fortunate to be able to move to Ronda, a larger nearby town, when I was 14 years old to complete high school. I moved again to complete my Doctor of Medicine degree at the University of Malaga. Halfway through medical school it became obvious to me that what I wanted to do was to prevent disease, rather than treating it.
After graduating with my M.D. degree, I moved to the United States and was accepted in the Master's program in Epidemiology at the Department of Social and Preventive Medicine, School of School of Medicine & Biomedical Sciences at the State University of New York at Buffalo. After my first semester I was offered a postdoctoral fellowship with funding from the National Cancer Institute. That was a pivotal moment in my career. With the postdoctoral fellowship funding, I decided to pursue a doctoral degree in epidemiology and community health with a focus on the nutritional epidemiology of cancer.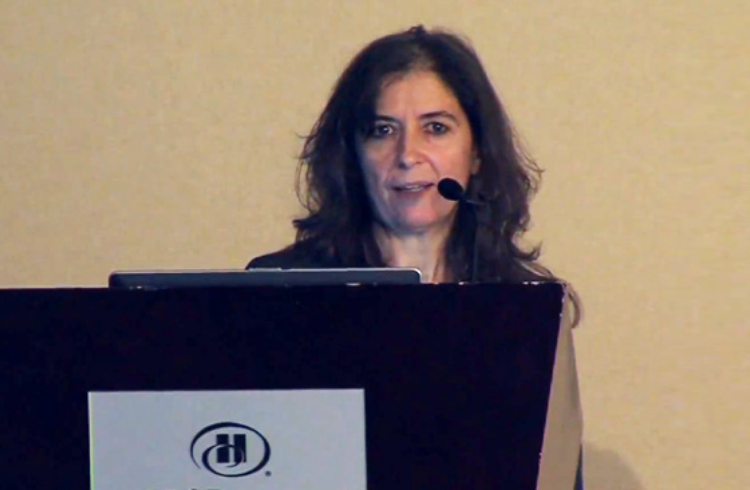 After graduation and a maternity leave, I accepted a position at Rutgers University, Department of Nutritional Sciences, as a Research Scientist, which was crucial to launching my academic career. There I wrote a K07 Career Development Grant to evaluate the impact of phytoestrogens on endometrial cancer risk, which was funded by the National Cancer Institute.
Shortly after receiving this grant, I was recruited by the Rutgers Cancer Institute of New Jersey as Assistant Professor where I have been for almost 20 years, climbing the academic ladder through a combination of hard work and sacrifices, rejections and successes, and a dash of luck.
I am now a tenured professor, chief of cancer epidemiology, and co-leader of cancer prevention and control program at the Rutgers Cancer Institute. I still go back every year to Yunquera, one of the "Pueblos Blancos" located in the Sierra de las Nieves National Park. No chain restaurants, only a few "restaurantes" serving locally grown food. No air pollution. Walking everywhere is part of daily life, for example to buy the freshly baked bread at the local bakery or to get some fish that was just caught in the nearby coastal towns. My annual visits there keep me grounded and help me forget (at least temporarily) the non-stop rush of academic life.
My involvement with breast cancer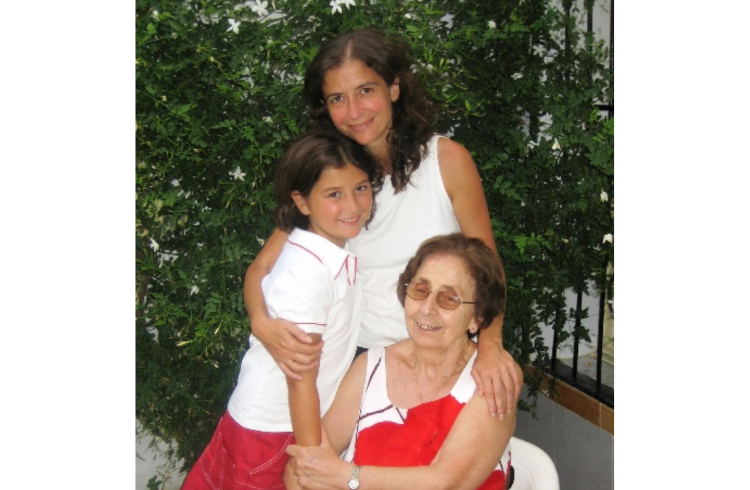 When I joined the Rutgers Cancer Institute of New Jersey my daughter was 6 years old and two close relatives developed breast cancer. Because she was in one of the known windows of susceptibility of breast cancer, the peripubertal period, I became very interested in the topic. Both higher growth velocity from childhood through adolescence and an earlier age at menarche have been consistently found to increase breast cancer risk. Furthermore, the rapid growth and differentiation of the mammary gland associated with pubertal breast development represent a period of increased vulnerability to environmental mutagens, which may be critical in defining breast cancer risk in subsequent years. However, I noticed that the modifiable risk factors for early puberty were not well understood.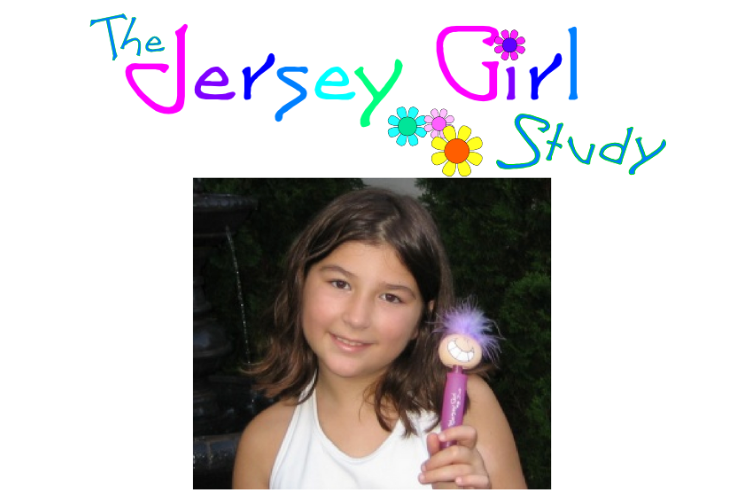 This led me to start the Jersey Girl Study, a cohort study in 9 and 10 year-old healthy girls aiming to evaluate factors affecting puberty in girls. One of the major findings of the study was the impact of estrogenic mycotoxins or mycoestrogens, such as zeranol and zearalenone (ZEA), during puberty in girls, a period highly sensitive to estrogenic stimulation. ZEA mycoestrogens are present in grains and other plant foods through fungal contamination, and in animal products (e.g., meat) through direct administration of zeranol during beef/meat production or indirect contamination through consumption of contaminated feedstuff. Zeranol had been banned for use in animal husbandry by the European Union and other countries but was still widely used in the US. In the Jersey Girl Study, we found that free (unbound) ZEA mycoestrogen were detectable in the urine of 78% of girls, with suggestion that they may play a role in delaying the pubertal height spurt take off and onset of breast development, suggesting anti-estrogenic effects similar to those reported for isoflavones.
I tried to obtain additional funding from NIH to further evaluate the role of mycoestrogens in girls by collaborating with the CYGNET Study (PI: Dr. Larry Kushi), a cohort of girls aged 6-7 years at baseline based in the San Francisco Bay Area. To support the grant submission, we conducted a pilot study in 30 girls participating in the CYGNET Study and found that levels were higher in the California girls than the levels found in the Jersey Girl Study. Unfortunately, convincing reviewers of novel ideas is hard sometimes, and the study was not funded. However, our manuscript was featured as "extramural paper of the month" at NIEHS Online News in December 2011, and I was also invited to present these finding at multiple academic institutions and at national and international scientific meetings, including the NIEHS/NCI Breast Cancer and the Environment Research Program Annual meeting in November 2012 in San Francisco, CA. There I started to interact with Breast Cancer Prevention Partners and have been since then, including reviewing their materials and serving in the Scientific Advisory Board since 2013.
I am also conducting studies of evaluating risk factors for breast cancer risk and survival in minority and underserved populations in New Jersey, including the Women's Circle of Health Study, a case-control study evaluating risk factors for early and aggressive breast cancer in Black/African American women and the Women's Circle of Health Follow-Up Study, a cohort study of approximately 2000 Black breast cancer survivors in New Jersey, which is evaluating a range of factors, including neighborhood, lifestyle, reproductive factors on patient reported outcomes, quality of life, and survival.
My interest in obesity and body composition in underserved populations
There are well known racial and ethnic disparities in the prevalence of obesity, as well as breast cancer risk and survival, with Black women being more likely to be obese, develop aggressive forms of breast cancer and to experience the worst survival rates than any other racial/ethnic group.
We also know that obesity plays a major role across the breast cancer continuum, as it has been associated with increased risk of postmenopausal breast cancer, delays in diagnosis, more complications related to surgery and radiation, possible reduction in chemotherapy dosing, and reduction in efficacy of chemotherapy and endocrine therapy, as well as worse prognosis and patient-reported outcomes, such as sleep disturbance, fatigue, and health related quality of life.
This is an active are of research for me. For example, in the Women's Circle of Health Follow-Up Study we found that simple measures of waist and hip circumferences can identify Black breast cancer survivors at higher risk of mortality, which can be easily implemented in clinical practice in survivorship plans for breast cancer survivors. Our study, in agreement with results reported by other studies, show that body mass index (BMI) may not be as useful. However, women with a BMI greater than 30 should be recommended to lose weight to reduce risk of other cancers and other chronic diseases and to improve survival and health-relate quality of life. We also compared patient-reported outcomes between Black and Hispanic breast cancer survivors and found that obesity was associated with lower quality of life, and higher prevalence of severe fatigue and sleep disturbance, particularly for Hispanic women.
There is still a lot to learn regarding the impact of obesity and related factors on breast cancer and particularly its impact on cancer health disparities.
Resources
Bandera EV, Alfano C, Qin B, Kang D-W, Ciarán P. Friel CP, Dieli-Conwright C. Harnessing Nutrition and Physical Activity for Breast Cancer Prevention and Control to Reduce Racial/Ethnic Cancer Health Disparities. ASCO Educational Book 2021 Mar;41:1-17. https://pubmed.ncbi.nlm.nih.gov/33989021/
World Cancer Research Fund/American Institute for Cancer Research. Continuous Update Project on Food, Nutrition, Physical Activity and Cancer. Online at wcrf.org and www.aicr.org
American Cancer Society:
Want more healthy living tips?
Check out our tips for prevention!