Firefighters and Breast Cancer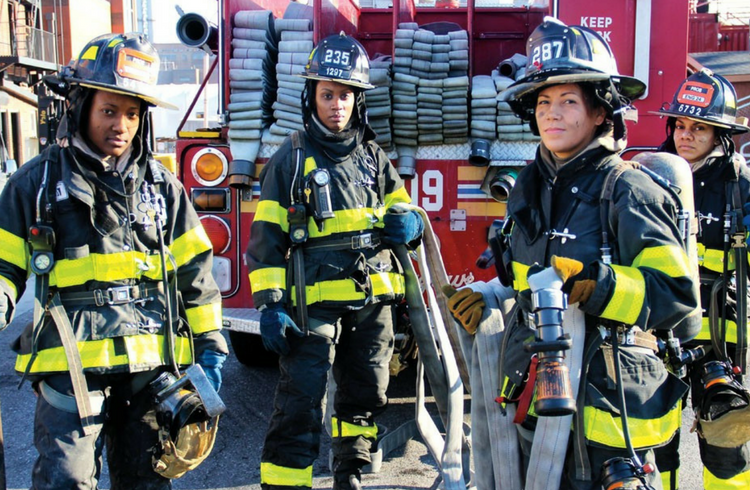 At a Glance
Firefighters express concerns about breast cancer risk among women in the fire service. Only a few studies have actually assessed this risk—or risk of any cancer—among female firefighters.
A number of studies indicate an elevated risk of cancer among male firefighters. And the research that does include female firefighters—though sparse—suggests elevated risk of several cancers. Other research raises concerns about the chemical exposures they face in their work.
A BCPP sponsored bill (SB 1044), authored by Senator Ben Allen (Santa Monica), will ban the manufacture, sale and use of firefighting foam that contains per-and poly-fluoralkyl substances, or PFAS. This legislation was signed into law by Governor Gavin Newsom on September 30, 2020.
PFAS chemicals have been used in commercial and industrial products like carpet, clothing and non-stick coatings since the 1950s because they resist heat, stains and water. PFAS chemicals used in firefighting foam and commercial products are linked to harm to human health and the environment including cancer, hormone disruption, kidney and liver damage, thyroid disease, birth defects, harm to developing infants and children, and drinking water contamination.
"We ask our brave firefighters day in and day out to put their lives at risk for our safety," said Senator Allen. "It's only right to put an end to further jeopardizing their health by continuing their exposure to these harmful chemicals. There are better alternatives out there and now we can begin moving toward those better alternatives. I'm grateful to the Governor for prioritizing the health of our state's firefighters and keeping our drinking water clean."
Firefighters for Prevention
Lt. Heather Buren, a firefighter for the San Francisco Fire Department, which has high rates of breast cancer. She doesn't want to sit back and wait for a cure– she wants to prevent breast cancer.
Cancer in the fire service
In the past several years, firefighters made significant gains regarding cancer prevention and awareness. In Boston, Seattle, San Francisco, Arizona, and Florida, major departments began to recognize and address high rates of cancer among firefighters.
In 2006, retired SFFD Captain Tony Stefani created a leading organization in this movement, the San Francisco's Cancer Prevention Foundation (SFFCPF). SFFCPF and the United Fire Service Women (UFSW) brought attention to concerns about breast cancer among female firefighters in the San Francisco Fire Department.
Of San Francisco's approximately 225 female firefighters–the most of any major city–a number of women have faced breast cancer diagnoses. Most of the women received their diagnosis before menopause, which is rare in the population as a whole.
What we know
Women are not included in most studies of firefighters' health. In our review of the literature on firefighters and cancer, only three out of 20 studies evaluated women firefighters' cancer risk.
When they are included, the number of women is often too small to draw reliable conclusions. This is true for racial and ethnic backgrounds among both male and female firefighters as well. Often the numbers of black, Latino or Asian firefighters included in studies are too small to evaluate if they face unique health risks.
Based on what we know from the few studies of women firefighters, overall cancer incidence appears elevated. Of the specific cancers studied, cervical, thyroid, and bladder cancer were elevated at a statistically significant level and breast cancer appears elevated, although this was not statistically significant. No other specific cancers have been studied in women.
Cancers that are elevated in male firefighters, but have not been studied in women, include brain cancer, colon cancer and kidney cancer as well as leukemia, Hodgkin's lymphoma and non-Hodgkin's lymphoma.
We don't know if women have elevated risk of these cancers because studies haven't looked at rates of these cancers among women. In this case, we can't use the absence of data to say there is an absence of risk.
What we are doing
Since 2013, BCPP has partnered with the Women Firefighters Biomonitoring Collaborative (WFBC), a project of the Women Workers Biomonitoring Collaborative (WWBC). The WFBC, comprised of firefighters from SFFCPF and UFSW, researchers from UC-Berkeley, UCSF, and Silent Spring Institute, and advocates from BCPP and Commonweal, collected blood and urine from firefighters in 2014. Researchers analyzed the blood and urine samples for the presence of PFAS chemicals and other chemicals of concern and wrote up their findings in this article: Exposure to Perfluoroalkyl Substances in a Cohort of Women Firefighters and Office Workers in San Francisco.
The study specifically measures exposures to PAHs (which are products of combustion), PFAS chemicals (which are common in firefighting foams and household and commercial products), and flame retardants. In addition, Time of Flight technology was used to assess exposure to other chemicals linked to breast cancer.  It concludes that women firefighters are exposed to higher levels of some PFAS chemicals compared to office workers, suggesting that some of these exposures may be occupationally related.
Policy
On September 30, 2020, California Governor Gavin Newsom signed SB 1044 into law, a bill that banned toxic PFAS "forever" chemicals known as PFAS from firefighting foam used to fight flammable liquid fires. SB1044 was co-sponsored by Breast Cancer Prevention Partners, California Professional Firefighters, Clean Water Action, Environmental Working Group and NRDC.
PFAS in firefighting foam is a major source of drinking water contamination in the state and poses a risk to communities where firefighting foam is used and to the firefighters who use the foam. Safe, effective, and economical alternatives are available and in widespread use. The new law imposes some of the strongest restrictions in the nation. In California, water sources for water systems serving up to 19 million people have already been found to be contaminated with PFAS. Given that the state still has to conduct tests on many more drinking water sources, the number is likely much higher. PFAS contamination is very hard to contain and clean up can be expensive.
The Firefighter Cancer Registry Act of 2018 collects data on all firefighters, include women, minorities, and volunteer firefighters. This will provide the data we need to be able to know more about the rates of cancer among those who are excluded, or included in small numbers, in other studies.
Presumptive laws are regulations that assume a given disease is linked, by default, to a specific occupation. This means that when someone is diagnosed with an illness covered under a presumptive law, they are automatically entitled to disability or workers' compensation, medical expense coverage, and medical leave. Without presumptive laws, firefighters and other workers may have to prove that their line of work caused their disease to get these benefits—a process that can be lengthy and expensive at a time when resources need to go toward treatment, wellness and sometimes end-of-life decisions.
Only eleven states and one Canadian province proactively include breast cancer in presumptive laws: Arkansas, Idaho, Iowa, Maine, Maryland, Missouri, New Mexico, New York, Oregon, Virginia, Wisconsin, and Ontario.
The City and County of San Francisco presumes that cancer that develops during service in the Fire or Police Department arose due to employment, as long as the individual has served for more than five years.