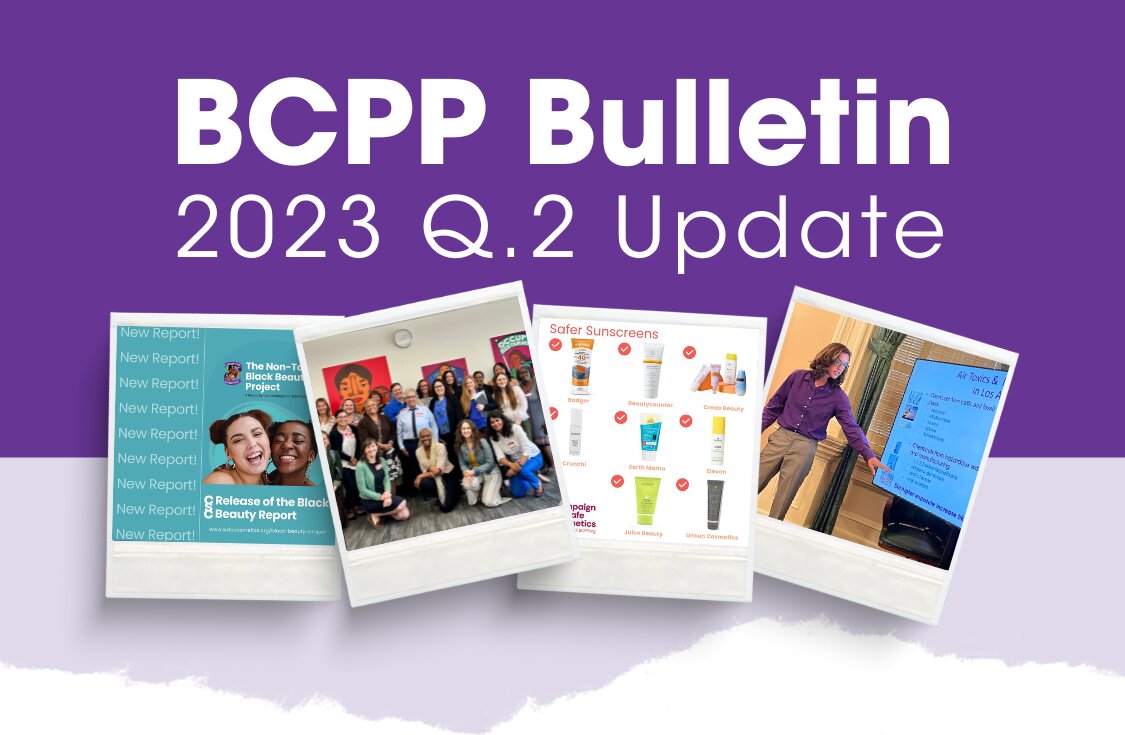 We hope you enjoyed a fantastic summer filled with well-deserved rest and lots of Vitamin D! It's hard to believe we are already in the Fall swing of things. We want to take a moment to share with you important Breast Cancer Prevention updates – ranging from victories to fresh new resources, from events to honoring legends in the breast cancer prevention movement. Your generous support makes these achievements possible, and we are incredibly grateful for you.
VICTORY! Phthalate DINP added to EPA's Toxic Release Inventory
BCPP joined Earthjustice and several of our allies in successfully suing the EPA to add one of the most frequently used phthalates, DINP, to the EPA's Toxic Release Inventory (TRI). Phthalates are a group of chemicals used to soften and improve the flexibility and durability of plastics. Phthalates are endocrine disruptors, and exposure to them has been linked to breast cancer, developmental issues, decreased fertility, obesity, and asthma. While certain phthalates are already listed on the EPA's TRI, DINP was notably absent. With the success of this lawsuit, facilities that make large quantities of the chemical must now report that information to the EPA, where it will be made public for communities, advocates, and regulators to review.
BCPP has a lengthy history working on phthalates, including successfully banning DINP in children's toys both in California in 2007 and at the federal level in 2008. Having the EPA acknowledge the toxicity of DINP by adding it to the TRI is a right-to-know victory and will help in our ongoing advocacy efforts to get DINP and other phthalates out of other consumer products, including food packaging and processing!
Hot off the Press: The Non-Toxic Black Beauty Project Report
As we continue to expand the Non-Toxic Black Beauty Project to protect Black women and girls from toxic cosmetic products marketed to them, we grow the variety of educational resources offered to consumers. With generous funding from the Rose Foundation: Consumer Products Fund, we developed, designed, and published a beautiful 48-page report detailing project inception, background, methodology, and key findings. View the report.
Reintroduction of the Safer Beauty Bill Package
To address the weaknesses in the federal Modernization of Cosmetics Regulation Act (MoCRA) – an essential but flawed piece of federal legislation passed earlier this year – BCPP is supporting the 2023 Safer Beauty Bill Package, reintroduced in May. This suite of federal safer beauty bills will close critical gaps in cosmetic safety that affect everyone: ban the worst chemicals, defend the health of women of color and salon workers, reveal fragrance ingredients, and ensure supply chain transparency. We all deserve personal care and beauty products free from cancer-causing and other harmful chemicals, no matter where we live, work, or shop. Read our press release and tell your congressional representative to support this much-needed legislation.
Safer Sunscreens Guide
In the height of summer, we must stay proactive and protect our skin not only from the strong UV rays but also from toxic chemicals hidden in many drugstore sunscreens and sun protectants. Many sunscreens contain chemicals that can mimic estrogen in the body, disrupt the endocrine system, and play a significant role in breast cancer development. You shouldn't have to choose between skin cancer and breast cancer. Use our new resource, the Safer Sunscreen Guide, to find safer, non-toxic products and more.
Eliminating Problematic Plastics Act AB 1290 (Rivas)
We're taking a short pause (sort of) in the long journey away from plastics. This year, BCPP partnered with Clean Water Action, NRDC, and Californians Against Waste to sponsor a CA state bill to address toxic exposures from plastics, including those linked to breast cancer. The Eliminating Problematic Plastics Act, AB 1290, authored by Assemblymember Luz Rivas, would have banned several categories of toxic plastics and plastics additives from all packaging in CA, including polyvinyl chloride, per- and polyfluoroalkyl substances (PFAS) and additives that create more microplastics that wind up in our bodies. However, in a show of industry addiction to fossil fuel-based plastics, the bill gathered an impressive array of opposition, from the American Chemistry Council to the California Cattlemen's Association to the Pet Food Industry; over 30 industry trade associations registered opposition.
As a result, the author and cosponsors decided to "park" the bill until early next year to allow us to do more education with the many new CA state legislature members and build more grassroots support to ensure the bill's success. The avalanche of plastics burying our planet didn't happen overnight, and real solutions that center the health of our families and the planet will likewise take time and persistence. With our allies and your continued support, we will educate the legislature, build broader support for our 2024 reintroduction, and advocate to reduce the toxic impact of plastics!
EPA appoints BCPP's Dr. Rainbow Rubin as newest member of SACC
We are thrilled to announce the U.S. Environmental Protection Agency (EPA) appointment of BCPP's Director of Science, Dr. Rainbow Rubin, Ph.D., MPH, to the Science Advisory Committee on Chemicals established under the Toxic Substances Control Act (TSCA). The SACC is a scientific peer review mechanism of EPA's Office of Chemical Safety and Pollution Prevention. It provides independent scientific advice and recommendations to EPA on the scientific basis for risk assessments, methodologies, and pollution prevention measures and approaches for chemicals regulated under TSCA. Congrats, Rainbow!
Legislative briefing: Air toxics, plastics & impacts on breast cancer
This past quarter, BCPP Director of Science Dr. Rainbow Rubin and Director of Program & Policy Nancy Buermeyer held a crucial legislative briefing at the CA State Capitol. Our experts were there to teach legislators and their staff about the new UCLA research on air toxics and their devastating impacts on breast cancer risk. The briefing also included a deep dive into the lifecycle of PVC plastic and its associated health risks, the impacts of hazardous air pollutants on breast cancer risk based on cutting-edge research, racial inequities in those risks, and the relationship of certain pollutants to PVC plastic production and disposal. Legislative action must be taken to safeguard these vulnerable communities.
Right to a Healthy Environment Global Coalition wins UN Human Rights Prize
The United Nations has just announced that our global coalition – the one that BCPP joined by endorsing the Global Call for the universal recognition of the right to a clean, healthy, and sustainable environment in 2020 – was selected as a recipient of the highest UN Human Rights Award this month! The UN selection committee designated us as one of the recipients of the Prize on the 75th anniversary of the Universal Declaration of Human Rights. This is an impressive recognition of the power of our collective work and a great political opportunity to amplify key public health messages. BCPP is proud to be one of the members of the Right to a #HealthyEnvironmentForAll coalition and to help the movement pushing for the human right to a clean, healthy, and sustainable environment!
Recap: Ridge Hike for Prevention & Climb Against the Odds
Two signature outdoor BCPP events have concluded with a splash. In April, a local committee of dedicated volunteers and the Town of Danville, California, hosted the fourth annual Ridge Hike for Prevention. Two hundred participants hit the local trails and raised over $175,000 to advance BCPP's work and mission. Thank you to all the hikers, walkers, sponsors, supporters, and volunteers who helped make Ridge Hike a success! View photos of the event. In June, our Climb Against the Odds expedition wrapped up with all climbers reaching their personal summit and 16 climbers reaching the full 14,179 ft.! This incredible group of mountaineers raised over $202,000 for breast cancer prevention. Congratulations to all our climbers and those who supported them. Read about or browse through photos of their triumphant journey in the name of prevention.
Hike for Prevention national series
We are excited to share our progress in growing our signature outdoor Hike for Prevention (previously known as Peak Hike) to the national scale. In partnership with supporters like you who fight for breast cancer prevention, we have several hikes and other outdoor excursions slated for the rest of the year:
Hike for Prevention: Salt Lake City, Utah. 9/17/2023. Frary Peak Trail Antelope Island
Hike for Prevention: Pacifica, California. 10/14/2023. San Pedro Vally Park
Hike for Prevention: Tyler, Texas. 10/21/2023. Faulkner Park
In memoriam: Nancy Evans, breast cancer prevention crusader
With a heavy heart, we share the news of the passing of Nancy Evans – a dedicated health science writer, breast cancer survivor, activist, and trailblazer in the environmental health movement. Her groundbreaking work, including producing the impactful film "Rachel's Daughters: Searching for the Causes of Breast Cancer," shed light on the complex science and politics surrounding breast cancer while raising awareness about the pivotal role of environmental factors. Nancy's partnership with BCPP deepened when former President & CEO Jeanne Rizzo entrusted Nancy with a box of BCPP founder Andrea Martin's research, which led to the publication of the organization's first-ever "State of the Evidence" report. This report solidified the connection between environmental factors and breast cancer, marking our organization's mission shift.
Nancy peacefully passed away in her sleep on June 11, 2023. Together, we carry forward Nancy's extraordinary legacy and continue toward a future where breast cancer is preventable. Learn more about Nancy's remarkable journey and profound impact on breast cancer prevention.
Donor highlight: Steven Clossick
"In 2018, as I climbed Mount Shasta, it stood as my way of giving back to an organization, a community, and a dream. An organization that will help prevent countless people from getting breast cancer. A community of people who have dealt with breast cancer as a survivor, a supporter, or memory. While neither my daughter, my wife, nor any of my immediate family have or have had breast cancer, prevention is key to ensuring that my daughter and everyone else has a fighting chance never to have to deal with breast cancer. It is an incredible statistic to know that 90% of breast cancer is not genetically linked. BCPP is not only looking at ways to prevent, but they are proactive in the ways that they go about teaching and working with other organizations, businesses, health groups, and most importantly, us as human beings." Read on: A father's journey to prevent cancer and protect his daughter
BCPP in the news
Check out some of our top media features from the last quarter: The Hill, Health Digest, EPA.Gov, Well + Good, Tasting Table, Best Life, Univision, Drugstore News, Food Safety News (FSN), US Weekly, Glam, Washington Examiner, Bethesda Magazine, JDSupra, Food Navigator USA, The Daily Meal, Chemical & Engineering News, CNET, MichaelWestMedia
Thank you again for participating in this movement and making primary prevention possible. Please consider donating to support our life-saving work!