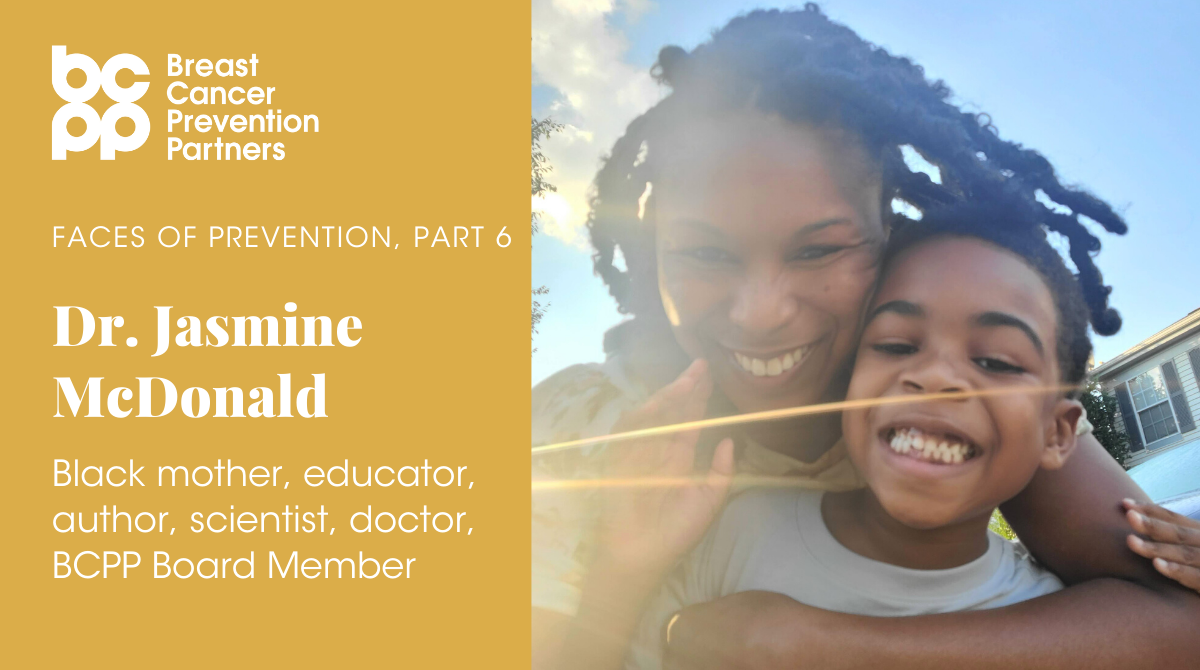 Guest Post by Dr. Jasmine McDonald, BCPP Board Member 
Like all women, I am many things.
First and foremost, I am a Black mother. After that, in no particular order, I am a daughter, a sister, an auntie, an educator, an author, a scientist, a doctor, a researcher, a scholar, an innovator, a dancer, a gardener, a choreographer (in my imagination), a friend, and I am exhausted.
I am sure I could think of more titles, but my last title prohibits.
I began my career studying Schistosomiasis, a worm infection, in a basic bench-science laboratory. However, I left the bench in search of conducting research that could benefit the human population. Besides, the lab snails were awful conversationalists.
In my quest, I met inspirational and brilliant female scientists who subsequently trained me as a molecular epidemiologist specializing in breast cancer. Thus, my path to breast cancer research was not direct, but it was clandestine. Because, as a Black woman, it is hard not to know someone who has been diagnosed.
I am a Face of Prevention. And so are you.

1 in 8 Black women will develop breast cancer in their lifetime (compared to 1 in 12 for the general population). Thus, it is hard to be a Black woman and not know a Black woman who has suffered a breast cancer diagnosis.
For me, it was my brilliant grandmother Mrs. Jessie Clark. Grandma was the best cook and had the energy of a 3 year old. I took naps just to keep up with her. Monday through Saturday by 10 am, she would have made 3 sets of breakfast, 2 cakes, washed all the dishes, started dinner, and could detail her prediction of who would be the next Nascar race champion. On a Sunday, she could do all of this by 8 am. But my grandmother, despite being an excellent swing dancer in her youth, never ever overweight, never ever a drinker, never ever a smoker, and being all things healthy, developed and died of breast cancer.
In my opinion, it was the lived life of my Black grandmother that brought on cancer. The social determinants of health – the environments in which my grandmother lived, worked, and played, and the structural and systemic inequity that governed those places – impacted her risk for developing breast cancer. And her lived experiences are also within me.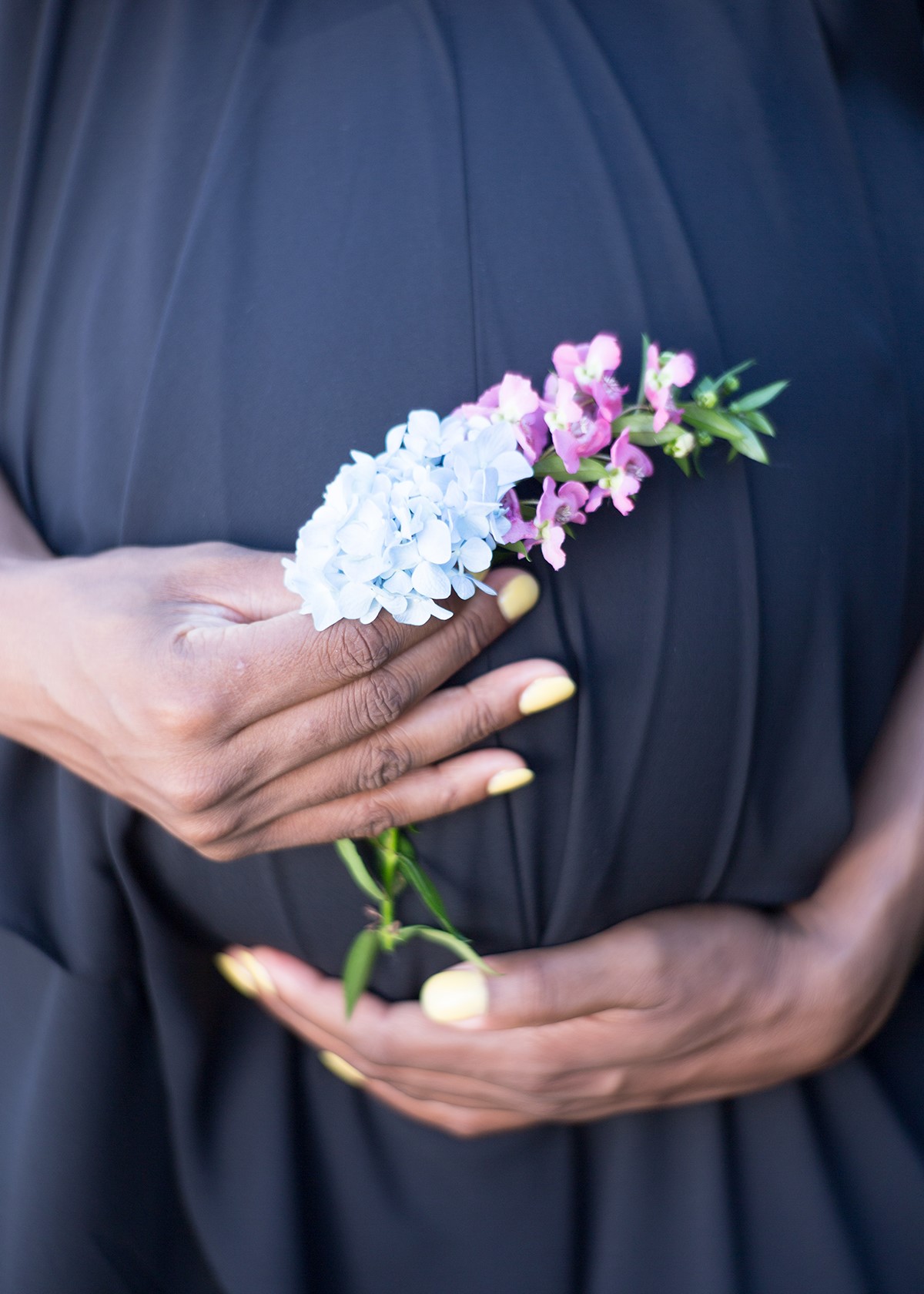 The first title I ever held was "Egg." Specifically, my mother's egg in my grandmother's womb. Thus, every social and structural inequity that led to my grandmother's most adverse, chronic, and cumulative environmental exposures are within me.
But this fact is why I love epidemiology! I have the ability to collaborate on how the lived experience and adverse environmental exposures impact breast cancer to ensure that future generations have the opportunity for better. 
Thus, my passion for my work comes from being a Black mother.
About half of women who are diagnosed before age 45 years are diagnosed within 10 years of childbirth. These women are in the midst of child-rearing. Yet, they are faced with a 3x's greater risk of cancer metastasis, the spread of cancer outside the breast. 
However, this group has been largely ignored – which also means Black women have been largely ignored.
​​​​


So, 6 years ago after the birth of my son, as a breast cancer researcher I knew all my personal risk factors for developing breast cancer after childbirth. And as a Black woman, I also knew all of the facts on the type of aggressive breast cancer I was more likely to get and my likelihood of dying.
I was scared and I remain scared. But the fear assaulted me when my friend of nearly 20 years told me on my birthday that she was diagnosed with aggressive breast cancer. Her son was 6 years old at the time.
So, what is breast cancer prevention to me?
1. Life course strategies to reduce breast cancer risk through the mitigation and elimination of carcinogenic external exposures, especially those that can be eliminated by upstream macro-level factors. Breast Cancer Prevention Partners is critical to this goal. BCPP can impact and change the laws, regulations, and policies that harm Black women. For example, endocrine disruptor chemicals in hair care products, those commonly used by women of color, are associated with a host of adverse health outcomes. Yet, the onus to avoid these chemicals should not be on the individual but instead restricted by our laws.
2. Screening and early detection is available and achievable for every woman.
3. Improving overall survival for young women who are diagnosed with breast cancer and are simultaneously raising the next generation.
Will you join me and support BCPP's mission today? Together, let's advance breast cancer prevention!