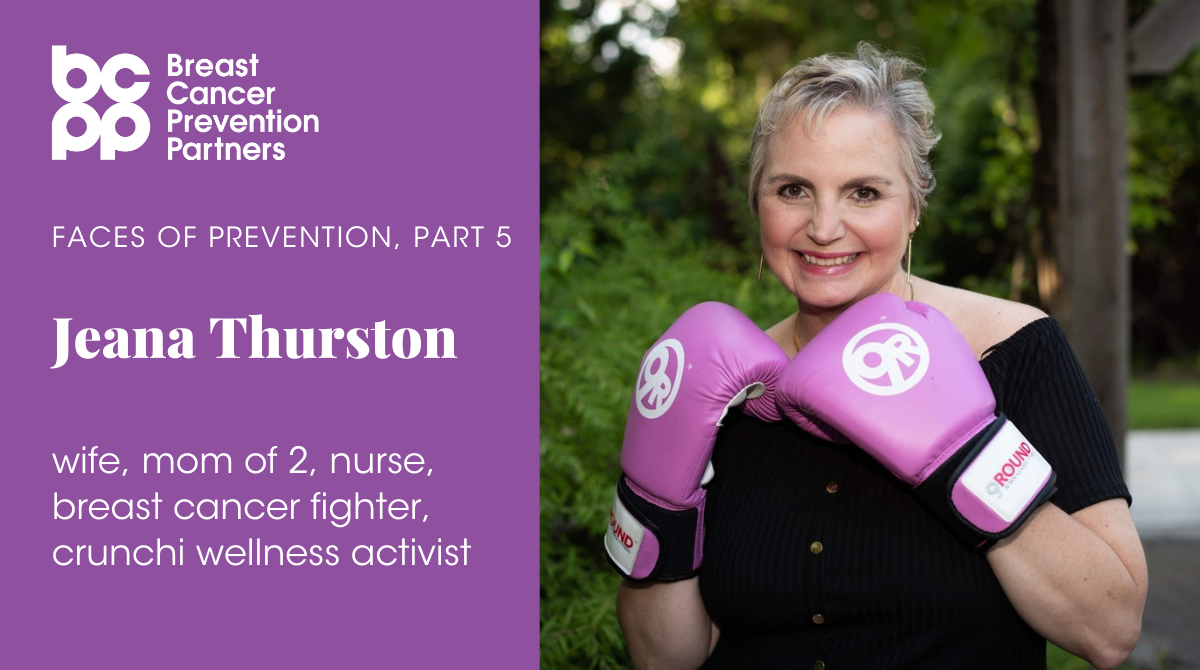 [TW: breast cancer]
Guest Post by Jeana Thurston, Crunchi wellness activist 
In September 2018, my annual mammogram showed a small irregularity. Since I had no family history of breast cancer and could not feel anything during my self-breast exam, I was only recommended a follow-up in six months. Although the follow-up showed the same results, I pushed for a biopsy, because I knew I would not be able to get it out of my mind.
On April 3, 2019, I got the call. "I am sorry. It is breast cancer." I was numb, shocked, in disbelief, and in tears. The diagnosis: invasive lobular carcinoma. The words played in my head over and over like a broken record.
My oncology team recommended a genetic test and blood work, because I am the first in my family to be diagnosed and because I have a sister and daughter. The genetics test was negative, but the blood work showed high estrogen levels. The big question was, "Where is the extra estrogen coming from?" With no clear medical evidence, everything pointed to environmental causes. This is what BCPP focuses on, and you can help support their vital work today!
The next three months were a storm of side-effects and frustration as I tried to figure out why this all happened. The tumor was 90% estrogen receptor-positive, and much larger and more advanced than expected! I faced a rigorous schedule of three kinds of chemotherapy, followed by radiation, and sudden-onset medical menopause.
I started my quest to find the cause of my elevated estrogen levels by looking into the products that I was using. Everything from shampoo, conditioner, bath soap, lotion, deodorant, toothpaste, nail polish, sunscreen, skincare, and makeup had "endocrine disruptors" – ingredients that have been found to interfere with the endocrine system. I was appalled!
After purging all the products containing endocrine disruptors, I didn't have much left in my collection of personal care products. Through my diagnosis, my family and friends were suddenly made aware of environmental toxics lurking in their homes.
That's when I discovered Crunchi (or maybe Crunchi found me). As a safer skincare and cosmetics company, Crunchi and its community of advocates gave me a vast sisterhood of strong, supportive, and heart-forward women who shared not only their research with me, but also their love.
I first learned of BCPP when researching ingredients during my cancer treatments. I love that BCPP is a science-based advocacy organization that has worked to prevent breast cancer by eliminating exposure to harmful chemicals and radiation for the past 30 years. I appreciate that BCPP works to pass legislation reducing toxic chemicals in our environment. Help them continue this important work in 2022!

When I found out that BCPP and Crunchi were partners, my heart became full. I was one of the 268,600 women with a newly diagnosed invasive carcinoma in 2019. As a survivor, I do not want to see or hear that another person must face this diagnosis.
Until the day comes when we can all celebrate the passing of legislation that bans companies from putting toxic chemicals in products, we must protect ourselves and each other.
Please support the lifesaving work of BCPP by making a generous year-end gift today.
P.S. My recommendation to all: be an ingredient detective and avoid toxic chemicals. We have a choice to not support companies who choose to use toxic ingredients in their products. Here are some useful resources to help: BCPP's website and Clearya. 
P.P.S. Please consider making a special year-end gift to BCPP and take advantage of the CARES Act deduction! The IRS is allowing the $300 deduction for cash donations for people who take the standard deduction, AND they've added a $600 deduction for married joint filing. So, give generously!