Go Back to School the Right Way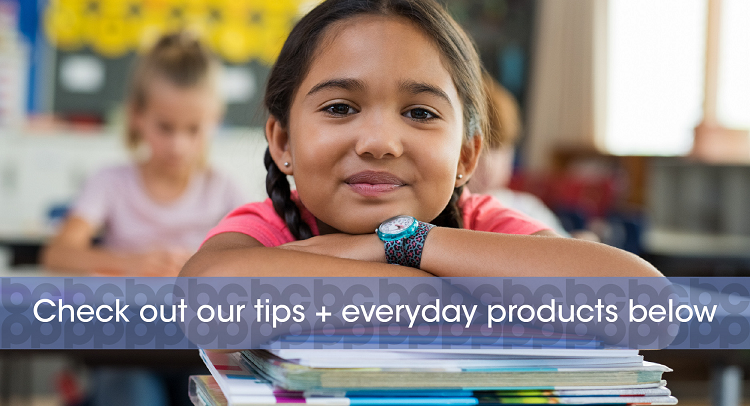 5 Tips for Packing a Safer Lunch
Most people don't realize that lunch gear commonly contains chemicals like hormone disruptors & carcinogens. These chemicals can seep into the food that you and your kiddos eat. The food you consume can contain hazardous chemicals too!
What are simple top tips for safer lunch packing?
Choose a stainless steel or canvas lunchbox. Avoid materials like PVC (polyvinyl chloride) and other plastics, which can contain phthalates, BPA, or BPA substitutes like BPS, and contribute to pollution.
No single use plastic. Many single-use and reusable plastic water bottles are made with harmful bisphenols like BPA, BPS, or BPF that leach hormone-disrupting chemicals. Use reusable stainless steel (like Klean Kanteen) or glass bottles.
Pack organic snacks. Organic fresh fruits and veggies are best to avoid cancer-causing pesticides. Choose lean meats and skip the processed lunch meats (like deli meats, salami, hot dogs) which are recognized as cancer-causing. Get Clif Bars, below.
Swap sandwich bags. Choose biodegradable bags like paper or a cloth wrap. Beeswax wraps (natural fiber cloth, like cotton, coated with wax) are another safe option that keeps leaks contained while keeping your food fresh.
Stay clean. For easy clean up, use an essential oil-based hand sanitizer. See the Everyone Products, below.
Safer Products
Our partners in prevention are businesses that support BCPP and value the health of people and the planet. Check out the best back to school items below that we picked just for you.
Enjoy botanical body care at a great value with Back to School essentials from Everyone for Every Body. Stock up on our best-selling hand soaps and hand sanitizers to keep hands clean at home and in the classroom.
Receive 25% off our back to school bundles with code BTS2019. Valid through 9/30/19. 
Try our curated selection of dorm room favorites from Everyone for Every Body! This bundle includes all the products a college student needs to kick start a new year on campus. This special bundle has your healthy must haves: face cleanser, moisturizer, hand soap and sanitizer, and 3-in-1 soap and lotion.
Receive 25% off this bundle with code BTS2019. Valid through 9/30/19. 
At Klean Kanteen, human and environmental safety is our top priority. All Klean Kanteen bottles feature our Klean Coat® finish that has been formulated to remove any chemicals deemed harmful for people and planet. When it comes to a truly clean bottle, trust that Klean Kanteen has your back!
Save 25% on your next purchase with coupon code BCPP25 at checkout. Offer for single use only.
Ban blemishes before the first bell rings with MyChelle Dermaceuticals Clear Skin products. The Clear Skin collection contains NatureClear Complex™, a powerful blend that helps to inhibit breakouts, counteract bacteria, protect against stress, and prevent impurities. These non-irritating ingredients help control oil and blemishes for a smoother face.
Use BACKTOSCHOOL code for 20% off your purchase. Valid until 8/31/19. 
CLIF Kid Zbar® is an organic, baked whole grain energy snack, made with a blend of carbohydrates, fiber, protein, and fat to give kids energy so they can keep zipping and zooming along. Their products never include high fructose corn syrup or artificial flavors.
Childhood and imagination need fuel. Try their delicious wholesome goodies. 
These products come from fabulous companies that financially support our efforts to prevent breast cancer, so purchases you make also support BCPP!
Purchase or Donate and share this email with your friends.