Q&A with Cynthia Churchwell, New England Peaks for Prevention Hiker 
New England Peaks for Prevention is an annual fundraising climb up Mt. Washington in New Hampshire. The idea for this mountain climb originated with Deb Cole, a breast cancer survivor, who previously climbed Mt. Shasta in California as part of BCPP's annual Climb Against the Odds expedition. Deb wanted to create a New England version of her experience and sought out the perfect mountain. She found that in Mt. Washington, the highest peak in the eastern United States. Deb worked with the Appalachian Mountain Club to organize a hut to hut hike to the summit, and in 2014 New England Peaks for Prevention (NEPP) was born. Over the past six years climbers have raised over $477,000 for breast cancer prevention. 
Cynthia is a 5-time New England Peaks for Prevention Hiker who has collectively raised $15,000 for breast cancer prevention. We're thankful that she shared with us the story of how she connected with Breast Cancer Prevention Partners and her motivations for hiking and fundraising to eliminate the causes of breast cancer.
Who are you?
I enjoy my job as a university librarian and have fun doing crafty things like knitting and baking. I love life with my husband and cat. I am a runner, and, of course, a hiker!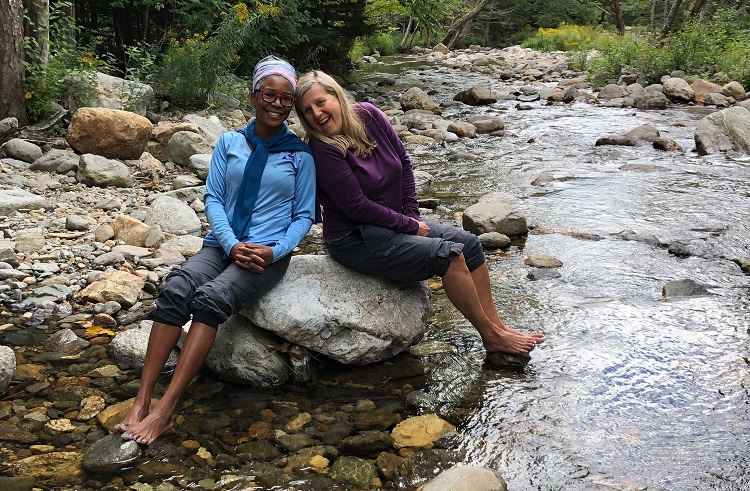 What years have you hiked New England Peaks for Prevention (NEPP)?
I had the privilege of participating in the very first NEPP in 2014, and hiked the next 3 consecutive years. The 5th year I supported hikers and then came back the 6th year, 2019, to hike again because I missed that part of the experience.
Why did you decide to hike?
I learned of BCPP because it was the non-profit partner of Luna Chix, sports groups in cities across the U.S. sponsored by Clif Bar encouraging women to get outside and be active. I raised money for BCPP as a member of Luna Chix Boston Run and personally when I ran my first marathon. I knew of the BCPP Mt. Shasta fundraising hike (Climb Against the Odds), but that was more ambitious than I wanted. As soon as the NEPP hike appeared as a BCPP event, I knew it was something I should sign up for.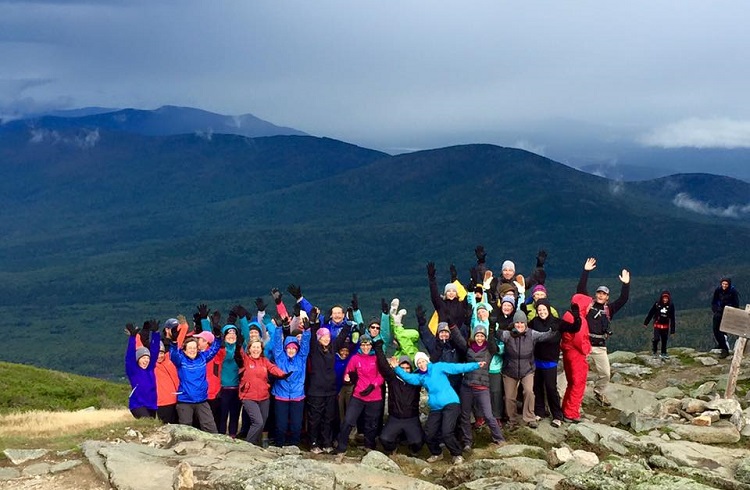 I thought it would be a fun way of adding a more meaningful experience to fundraising. I was struck by the fact that someone who peaked Mt. Shasta personally created a more accessible opportunity for others to have a similar experience. Deb is a powerhouse of joy and positivity! I could tell she was a special person, but meeting Deb in person solidified I would have a great time no matter what; and I did.
I met many other wonderful people that first year too. By creating NEPP, Deb sparked friendships and created a community.  I now have Jen Avery, Nancy Buermeyer, and Roni Widmer as friends and am glad to have NEPP as a way to reconnect with them every year. See Roni, Nancy, Jen, and me the year we met.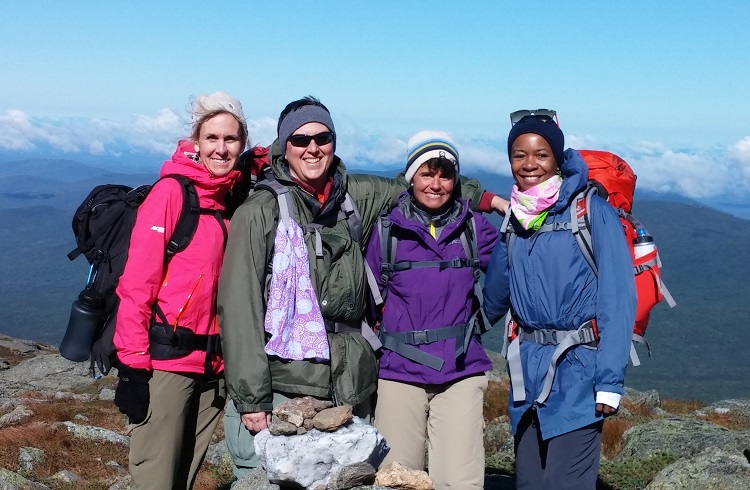 How has breast cancer impacted your life?
My college roommate died way too young, and a long-time friend is a survivor of a double mastectomy.
Why is breast cancer prevention important to you?
The efforts of BCPP make simple sense to me. Cures are important, but eliminating the *causes* of breast cancer has an even greater impact.  BCPP's results reach beyond breast cancer to other cancers and other ailments. Nancy Buermeyer and Janet Gray are personable knowledgeable spokespersons, and getting to know them and their work has given me greater insight about the importance of BCPP.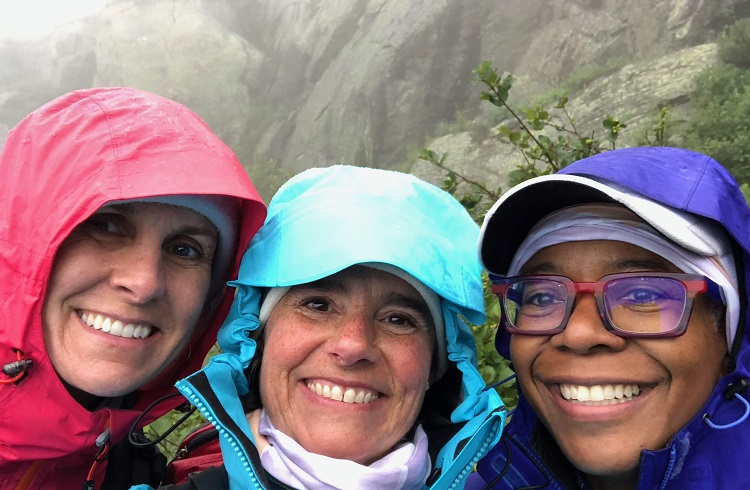 What is your favorite memory from NEPP?
My fondness of NEPP stems from how Deb brought together such a wonderful group of people and that we enjoy each other so much we keep coming back. Several people have returned for all the hikes and I enjoy reconnecting with Jen, Roni, and Nancy, and helping new people have as memorable an experience as I do. I first signed up for the hike not knowing anyone else ahead of time and was fortunate Jen, Roni, and Nancy adopted me as an additional hiking buddy into their group. Something just clicked, and I've stayed connected to them and look forward to seeing them at the hike every year. Thank you Jen, Roni, and Nancy for befriending me, and thank you Deb for creating the opportunity! I've been fortunate enough to have great supporters over the years, and I thank each of them too!
What is your top tip for training?
If you think you've trained enough, train some more! 🙂 It's difficult to be in too good a shape, for anything, and I usually wish I had spent more time prepping.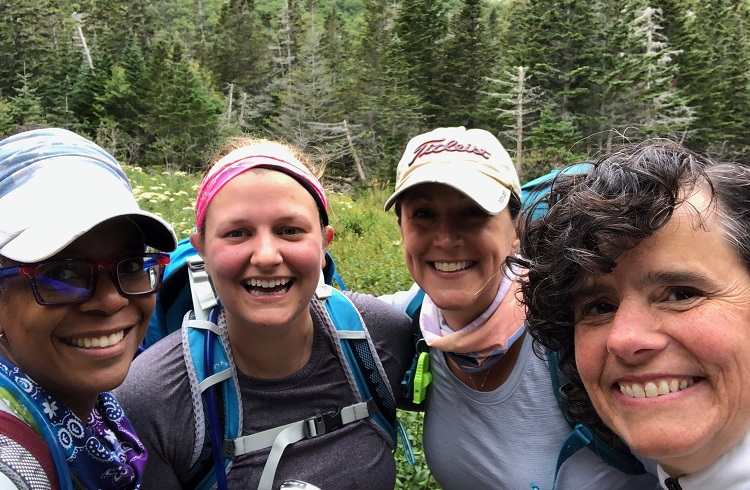 Why should others (survivors, moms, etc) care about hiking in the name of prevention?
Breast cancer prevention benefits everyone in some way. It is avoiding a diagnosis or losing a loved one. It is also using products, eating food, and breathing air that's not contaminated. BCPP has breast cancer as the target, but the impact of the work is so broad-reaching. BCPP deserves our support, financial and otherwise, because prevention is a beginning to healthier, happier lives. It's a win-win. Hike it!
Anything else we should know?
New England Peaks for Prevention can be enjoyed by novices and experts. I encourage you to try it; I bet you'll like it.