Peak Hike '17 is going virtual!
Due to the devastating wild fires that have greatly affected Northern California, we have canceled our annual hiking event at Mt. Tamalpais. Instead, we are swapping Sunday to a VIRTUAL DAY of community for all those who signed up and fundraised in the name of prevention and a healthier environment.
Keep the Peak Hike community going! Ordinarily, as a participant, you would find yourself at Mt. Tam. with 350 fellow hikers, all united in support of breast cancer prevention. Now that we are virtual this year, let us find a way to re-create that connectivity we normally have together on the trail. To make it happen, we need you to share your creative, meaningful ways of honoring Peak Hike Sunday with us!
Post and Share on the Facebook Event Page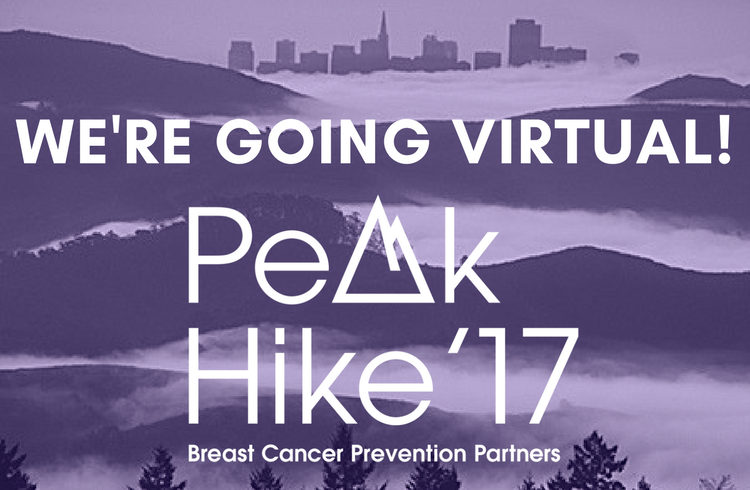 Community in Action
Coming together to support BCPP's groundbreaking work to prevent breast cancer. Your photos and videos, your Peak Hike '17!
Here are some examples of what "going virtual" means:
1. Take the day to remember why we hike, snap a shot and share. Do you remember why you signed up to hike in the first place? Tell us! Download this Peak Hike printable one-page banner, and no matter what you're doing or where you are this Sunday, take a picture and share it with us.
How? Upload your photo to Facebook, Instagram or Twitter and use the hashtag #PeakHike17 and tag us @BCPPartners or send it to us here to be featured on our website.
2. Host a peak party. Bring your friends, family or your Peak Hike team together on Sunday by hosting a peak party. Take a group photo with your loved ones and share it with us! Post it on social media using #PeakHike17 and tag us @BCPPartners or send to us here.
3. Like video? We do, too! Record a short 15 second or less message on your phone and post it or share with us for use on our website: stating "I care about breast cancer prevention because…"
4. Volunteer for fire victims. Put forth the efforts you would have used up on Mt. Tam and send it elsewhere to help those impacted by the North Bay fires. Check out these online resources for volunteering opportunities:
See the ways you can help out in your local area or find out how to become a Community Emergency Response Team "CERT" volunteer.
Fundraise. Honor. Support.
Don't forget, you can keep fundraising! Our work is still here and thriving. Undeniably, Peak Hike for Prevention has been one of our biggest fundraising events for the past 22 years.  The support and fundraising efforts from our Bay Area community has helped us remain the leading science-based policy and advocacy organization, working to prevent breast cancer by eliminating our exposure to toxic chemicals and radiation. Thank you for all you do and we hope to see you participate in the first-ever virtual Peak Hike!

THANK YOU:
Jeanne on Peak Hike '17
We thank you for participating, for fundraising, and for supporting us and each other in Virtual Peak Hike '17 for breast cancer prevention.