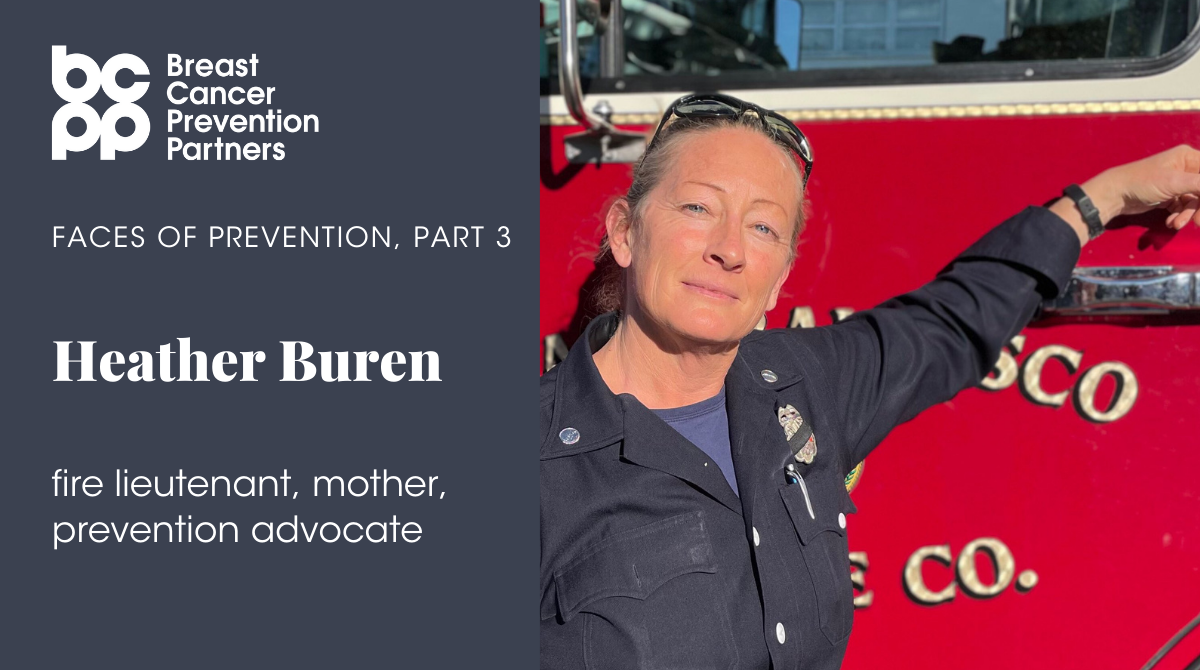 For years we at BCPP have been exploring the relationship between occupation and breast cancer and we remain focused on building a healthier workplace.
Hear from our Face of Prevention Lieutenant Heather Buren, San Francisco Fire Dept., Board member of the United Fire Service Women:
Guest Post by Lieutenant Heather Buren, San Francisco Fire Dept., Board member of the United Fire Service Women 
For the past 24 years I have proudly worked alongside my SFFD brothers and sisters saving the lives and property of the residents and visitors of San Francisco. Currently working on a busy engine company in the Mission, I don't choose when me and my crew fight fire. We NEVER pull up in front of a fully involved burning building and say, "Oh that looks toxic, I don't think I'm going to fight this fire." Not on your life! We ALWAYS choose to step into the burning building, we choose to locate, confine and extinguish the fire, while looking for and saving victims along our path. And sadly, we are learning that our actions are in fact taking our lives!
Years down the road, we are being diagnosed with cancer and dying because of the "toxic soup" of chemicals we are exposed to in every fire we fight and because until recently, firefighters were not taking the simple and necessary steps to quickly remove the soot and chemicals off our body, gear, tools, and apparatus. If toxic chemicals weren't allowed in couches and mattresses and carpets and turnout gear, we wouldn't be exposed in the first place. Through chemical policy change, it's crucial that our elected officials do everything they can to protect us from the toxic chemicals linked to cancer.
The science-based approach to prevention that BCPP takes has educated me and my colleagues, causing us to alter our decontamination behavior. Thank you, BCPP, for taking science and making it action-based and helping to protect us all!
I am a Face of Prevention. And so are you.

I proudly serve the residents of San Francisco, and after 24 years I am still loving the work and challenges I face each day as a SFFD firefighter. Through their focus on prevention of breast cancer through a science-based lens, BCPP has given me the tools to keep myself and my crews safer!
Won't you please give today and help BCPP continue their vital work in 2022? 
Firefighters, like me, are exposed to many substances linked to health problems, including PFAS "forever" chemicals. Multiple studies have demonstrated that firefighters are at a higher risk for cancer or serious illness through occupational exposure to dangerous substances.
Biomonitoring
About 10 years ago, I was concerned about the breast cancer many of my SFFD friends and colleagues were being diagnosed with. I wondered if we were at a higher risk because of our occupational exposures in the fire service. At the time I could not find a single study that assessed this risk among female firefighters. I was convinced that the absence of data did not equal an absence of risk. So to better understand the elevated risk of breast cancer among our ranks, we (United Fire Service Women) partnered with researchers and advocates like BCPP to create the Women Firefighters Biomonitoring Collaborative (WFBC), to collect blood and urine from firefighters and office workers in San Francisco.
Researchers analyzed the blood and urine samples for the presence of PFAS "forever" chemicals, PAHs, and flame retardants and other chemicals of concern and wrote up their findings in this article. It concludes that women firefighters are exposed to higher levels of PFAS chemicals compared to office workers, suggesting that some of these exposures may be occupationally related.
While working with BCPP in this research study I learned that when it comes to preventing breast cancer, only 10% of cases are attributed to genetics. Preventable causes of the disease include exposures to toxic chemicals and other environmental factors.
Policy
PFAS "forever" chemicals in firefighting foam are a major source of drinking water contamination and pose a risk to communities where firefighting foam is used and to the firefighters who use the foam. That's why BCPP passed a new law that bans toxic PFAS from firefighting foam!
You Can Help
Help us continue this vital work in 2022. Tomorrow is #GivingTuesday, a national day of giving, and BCPP is excited to announce this year's generous partner: Innersense Organic Beauty.
Kick start our matching gift challenge by tripling your donation TODAY! This week you have the opportunity to TRIPLE your impact for advancing breast cancer prevention!
P.S. As a special gift, Innersense Organic Beauty has a special offer for 20% off of products this #GivingTuesday until 12/31/21 for our BCPP community. Use code GIVING20 at checkout.
X3 Match for Giving Tuesday