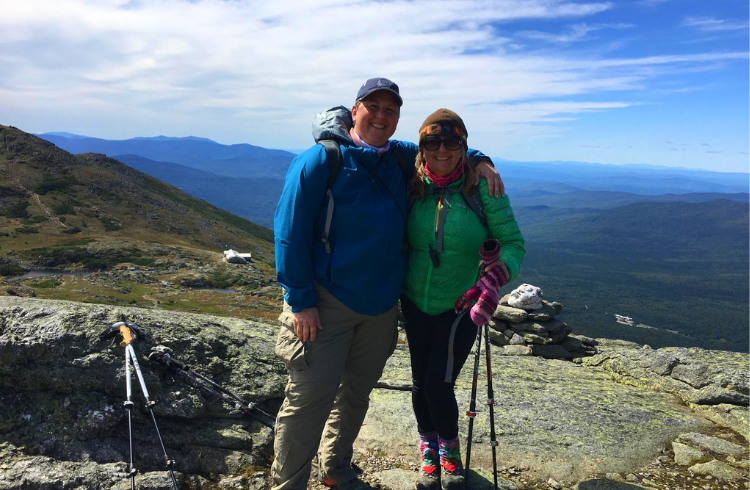 Guest Post by 2009 Climb Against the Odds climber and New England Peaks for Prevention event organizer, Deb Cole
Originally published in Breast Cancer Wellness Magazine, Volume 13, Issue 4.
The spring equinox represents new light and life, new beginnings, but in March of 2005 the dawning of spring brought a darkness I had hoped that I'd never know. Breast cancer. I'd lost my Dad to metastatic prostate cancer when I was in my late 20's and here I was 20 years later being diagnosed with this most dreaded of diseases.
Prior to my own diagnosis I knew of only one other person who had been diagnosed with breast cancer, she was my friend's mother and she passed away six months before my Dad. To me, cancer meant death.
Upon hearing my own diagnosis, I was terrified. I was suddenly thrust into an unfamiliar world with terms I didn't understand and treatment options that seemed straight out of my worst nightmares. So I did what I always do, when faced with something I know nothing about, I began to read and research. I needed to make logical sense of what was going to happen to me and what and where my best treatment options were. Thankfully, Boston and its top notch hospitals and doctors were just an hour away and at that time the only doctor in the Northeast who performed the DIEP (deep inferior epigastric perforator) flap reconstruction was in Boston, and that was the surgery option I decided to pursue.
In the world of breast cancer, I was considered "lucky" to be diagnosed with high grade DCIS (ductal carcinoma in situ). My treatment required surgery, but no chemotherapy or radiation. At the time I resented doctors telling me how lucky I was; somehow a bi-lateral mastectomy, DIEP flap reconstruction and a sudden idiopathic sensorineural hearing loss in my left ear as a result of surgery didn't make me feel "lucky." I felt damaged and incomplete with the loss of my breasts and my new hearing impairment. I was in desperate need of an outlet to work off my angst and to find myself again.
I started to walk as a means of exercise and to feel like I had control of my life again. At first a few feet was more than I could manage due to the hip to hip incision required for the reconstruction and my friend would move a chair up and down the driveway with me so I could sit down every few minutes. Before long, I was up to a mile and then two and I just kept going from there. I participated in a local "pink" walking event with my family and discovered I was not alone. There were lots of other women and some men just like me who had been diagnosed with breast cancer and they had the support of each other and a much larger caring community. I was hooked! I realized that I could receive the support I needed and I could give something back by raising money to provide education and support to others. I also discovered my passion – prevention. Ultimately, I discovered my new mission. I needed to do whatever I could to prevent breast cancer because of two driving forces, my daughters, Lindsay and Hayley. Hayley was just nine years old when I was diagnosed and Lindsay was 21 and I couldn't imagine them going through life without a mother or facing a diagnosis in the future themselves. I had to do something.
While working full time at a local University, I managed to dive into all things breast cancer related. For a number of years I captained teams for multi-day breast cancer walks, raising thousands of dollars. I have lobbied on Capitol Hill for continued funding of breast cancer research and policy. I completed the Project Lead scientific training courses offered by the National Breast Cancer Coalition. I joined the board of a local breast cancer organization funding research on prevention. I was the project manager of a "Men with Breast Cancer" calendar as well as the cover girl on another calendar.
I was a panelist for a Congressional staff briefing on prevention. I've given testimony at my local State House on fragrance. I immersed myself in the breast cancer community to do whatever I could to help make a difference in the lives of those diagnosed with breast cancer. In 2009, I joined a mountaineering expedition called the Climb Against the Odds, the signature event of the Breast Cancer Prevention Partners (BCPP).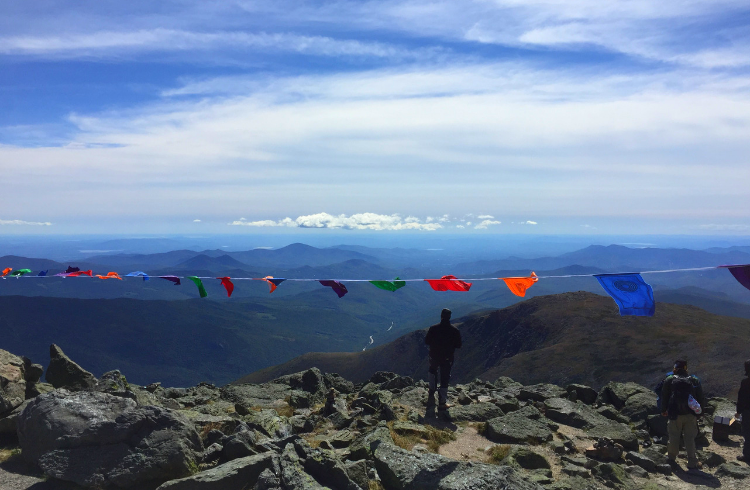 For me, that climb was the ultimate evidence of the quote, "while I had cancer, it didn't have me." I was 53, had never seen a 14,179 foot mountain, never mind climb one and yet in June of 2009, four years after my initial diagnosis, I stood on the summit of Mount Shasta in northern California and soaked in the glorious moments of pure joy, of pure living. I will forever be grateful to my East Coast teammates, who made sure we all stood on the summit together.
Arriving back in Rhode Island, high on that mountain climbing experience, I wanted to figure out a way to share it with friends, family and fellow survivors back on the East Coast. I wanted others to have that same feeling of community, accomplishment, support and the knowledge that they are doing something towards prevention of cancers and other diseases. After a couple of years of trying to figure out the details of exactly what it was I was going to do, the decision was made deep in the woods while hiking with two of my best friends, Patti and Shirley. I was planning to organize an event on Mt Washington and they committed to being by my side. We agreed that at least there would be three of us climbing that mountain.
To that end, I founded New England Peaks for Prevention (NEPP) in 2013 to benefit the Breast Cancer Prevention Partners and the planning began in earnest. After much deliberation it was decided that participants of NEPP would take part in a two day hike through the Presidential Range to the summit of Mount Washington, with two overnights in two of the beautiful Appalachian Mountain club huts. They would return home with knowledge to protect themselves and those they love by taking actions for prevention. New England Peaks for Prevention provides a unique and empowering way for participants and survivors to turn awareness into action just in time for Breast Cancer Prevention Month. The event serves as an opportunity for individuals to honor the strength and courage it takes to face breast cancer as they challenge themselves to climb the highest mountain east of the Mississippi.
The first NEPP event was held on September 5-7, 2014, complete with a memorable mountaintop prayer flag ceremony in honor of survivors or in memory of those who we've lost to this disease. That first year Patti, Shirley and I were indeed there, but 52 other folks who joined us as well! I was absolutely thrilled that the inaugural event raised over $100,000! In the past 5 years over 200 unique individuals have participated in NEPP, and each year about half of the participants are back for a repeat experience. These repeat participants would tell you that it's the people who bring them back year after year and the tremendous feelings of comradery and love. I have been blessed to have one or the other of my daughters climbing alongside of me every year as well as nieces and nephews. I have come to treasure this very special time we have created in the White Mountain National Forest of New Hampshire. My family realizes the benefit of prevention and are all working hard in their own lives to do what they can to thwart the advance of disease through prevention.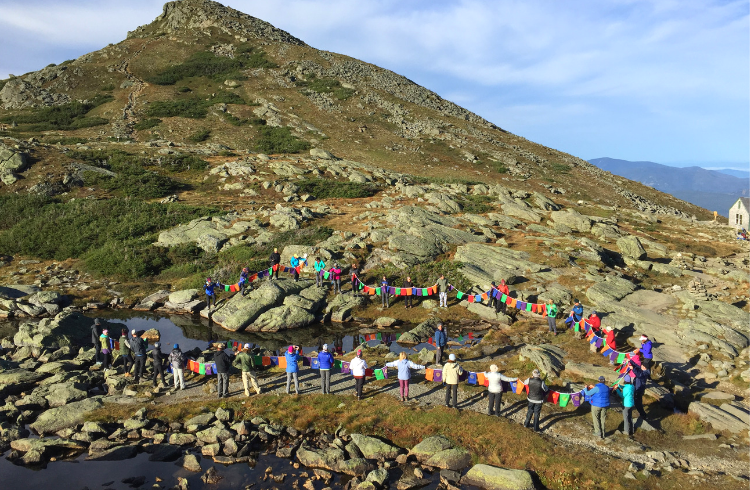 To date NEPP events have collectively raised over $410,000 for BCPP. This past September of 2018 we celebrated our 5th year of New England Peaks for Prevention. In a bittersweet gesture, the event was dedicated to the memory of my dear friend Shirley, who lost her life to metastatic breast cancer in March of 2018. While the spring was bringing new light and life once again, one more amazing light was extinguished by breast cancer.
In hindsight, when I was diagnosed in March 2005, it was a new beginning. I am nothing like the person I was prior to my diagnosis. I am stronger, braver and grateful for each and every day I have. I have been lucky, just like the doctors told me. However, many of the wonderful, courageous women I have met along my journey have not been as fortunate. Metastatic breast cancer kills, which is why I will continue to do whatever I can for as long as I can to make a difference in the world of breast cancer.
I am living each day to the fullest. Prevention is the key!
Climb Mt. Washington with New England Peaks for Prevention
Check out the full itinerary and sign up here to hike in support of breast cancer prevention!